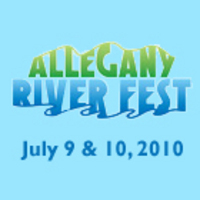 "This year's festival promises to be a 'wildly' entertaining day of music, dance and a unique mix of country western and Native American performers."
Salamanca, NY (PRWEB) June 26, 2010
Time is running out to take advantage of special discount pricing on advance tickets for the 2nd Annual Allegany River Fest, headlined by The Crazy White Boys Tour featuring multi-platinum selling country star Mark Wills and second season American Idol finalist Josh Gracin. And with the launch of a dedicated event website – http://www.alleganyriverfest.com – it's now easier than ever to check out event details and purchase tickets on-line for one of New York State's most eclectic country music celebrations, to be held July 10 at scenic Veterans Park in Salamanca.
"This year's festival promises to be a 'wildly' entertaining day of music, dance and a unique mix of country western and Native American performers," says Salamanca Area Chamber of Commerce president Jayne Fenton, noting that this year's headline of Mark Wills and Josh Gracin is expected to generate more excitement than usual. "It's a chance to grab your blanket or chair and experience the great outdoors while enjoying a foot-stomping day of entertainment."
Advance tickets are being offered for $22, representing a $5 savings off regular price, and are available for purchase online, at any participating Wegmans store and direct from the Salamanca Area Chamber of Commerce. Tickets can also be purchased at the gate on the day of the event for $27.
Joining the Crazy White Boys on stage are country rock group The Bob Hartle Band, Western New York's award-winning West of the Mark and Native Son, a Seneca country band from the Cattaraugus Territory of the Seneca Nation of Indians. The day opens with DJ Michael "Smitty" Smith from Classic Hits WGWE 105.9FM.
Between music sets, attendees will be awed by a demonstration of traditional Seneca social dances performed by The Buffalo Creek Dancers and by the breathtaking skills of three acts from the remarkable Tom Bishop's Wild West Show. Best known for their participation in The Murdoch Mysteries, a turn of the century horse and buggy television suspense series, four Wild West performers will dazzle concert goers with rope tricks, a Texas bull whip act and a Fast Draw Challenge by Smilin' Dan who will be looking for audience volunteers.
Additional highlights of the 2nd Annual Allegany River Fest include a huge outdoor dance stage, beer tent, mechanical bull riding and a chance to taste the best of country and native food, from BBQ and ribs to fry bread and Indian tacos.
Scheduled activities kick off at 10 a.m. on Saturday, July 10, with the Great Cardboard Boat Regatta® on the Allegheny River. Live performances begin at 1:00 p.m. in Veterans Park.
Tickets and Accommodations
Advance tickets for the 2nd Annual Allegany River Fest can be purchased for $22 at http://www.alleganyriverfest.com, at any Wegman's store, by visiting the Salamanca Area Chamber of Commerce at 26 Main Street, or by calling the Chamber at 716-945-2034. Accommodation options for the weekend include 424 campsites and 325 cabins on-site at nearby Allegany State Park, a variety of local motels and hotels, upscale bed and breakfast spots, and the Las Vegas-style Seneca Allegany Casino and Hotel. For a complete listing of concert events, Salamanca area activities and additional information about the Great Cardboard Boat Regatta®, visit http://www.alleganyriverfest.com.
# # #