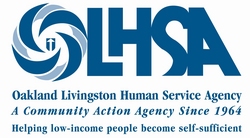 Asking for help is extremely hard, especially for our first-time customers
Pontiac, MI (Vocus) June 25, 2010
The new Welcome Center at Oakland Livingston Human Service Agency (OLHSA), located at 196 Cesar E. Chavez Ave. in Pontiac, is now open every week Monday, Tuesday, Thursday and Friday 8am – 5pm with extended hours every Wednesday from 8am to 7pm.
The Welcome Center officially opened earlier this month, launching new customer service practices and offering extended hours in an effort to be more available to those in need. Providing efficient and comprehensive help is the Welcome Center's top priority.
Emergency Utility Assistance, Weatherization, Head Start preschool, foreclosure counseling and food assistance are just a few of the free programs that OLHSA provides, and the Welcome Center is striving to help clients access as many as possible.
Residents of Oakland County who are experiencing hard times can visit the Welcome Center to learn how OLHSA can help them build their future. Whether they have a specific need or are facing a barrage of difficulties, staff will help them identify which of OLHSA's ninety programs can help them.
An example of Welcome Center customer service for someone seeking help paying their utility bills would be for Welcome Center staff to pre-screen customers for the Weatherization Assistance Program as well as determining eligibility for Emergency Utility Assistance. Weatherization can reduce energy consumption and lower utility bills, therefore increasing the likelihood that a customer can afford to keep power on in the future. The same comprehensive service will apply to all customer needs.
"Asking for help is extremely hard, especially for our first-time customers," said Ronald B. Borngesser, OLHSA CEO. "Our goal with the Welcome Center is to make our customers truly feel welcomed and allow them to experience all the opportunities that OLHSA has to offer."
Oakland Livingston Human Service Agency is a Community Action Agency committed to providing education and resources that help the low-income, elderly, and those with disabilities become self-sufficient. Ninety programs provided over 270,000 services in 2009. Helping people. Changing lives. http://www.olhsa.org.
###