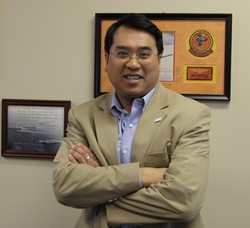 Cogon's virtual health network (VHN) leverages 'cloud computing' to promote the sharing of clinical data across health care providers, states, and even the nation. The VHN does not replace EHRs, but makes health data more accessible at the point of care.
Washington, DC (PRWEB) June 28, 2010
Dr. Huy Nguyen, CEO of Cogon Systems, Inc. (COGON), testified before the House Committee on Veterans Affairs last week as part of an industry panel on the topic of Overcoming Rural Health Care Barriers : Use of Innovative Wireless Health Technology Solutions.
Dr. Nguyen, a Navy veteran who served in Iraq in 2003 as a physician attached to the Fleet Hospital Pensacola, founded Cogon in 2004 and today Cogon facilitates secure web-based health information solutions leveraging 'cloud computing' technology. He continues to serve the military and veteran community in Pensacola as a civilian Emergency Department physician at Naval Hospital Pensacola.
Dr. Nguyen's testimony focused on health information exchange and the interoperability necessary for comprehensive health information to be available to all providers at the moment of care. Secure access to comprehensive health information can be particular helpful for providers serving veterans patients in rural communities. He also drew on the company's successful project in Pensacola which has facilitated the largest instance of secure data sharing between federal and civilian healthcare providers by integrating 300,000+ unique civilian patient records from local hospitals and correlating those records to 23,000+ unique patient records receiving care at Pensacola Naval Hospital AND those local hospitals.
The Pensacola Health Information Utility run by the Strategic Health Intelligence under the auspices of the Pensacola Chamber of Commerce demonstrates success and key lessons learned that can directly contribute to business and technologies in the emerging Virtual Lifetime Electronic Record /Nationwide Health Information Network (VLER/NHIN) pilot projects such as Phase 1a. Dr. Nguyen concluded, 'We hope the Subcommittee will support efforts to add exchange with the VA to our current civilian-DOD exchange efforts in Pensacola to improve veterans care.' Dr. Nguyen's full testimony is available via http://www.cogonsystems.com.
###