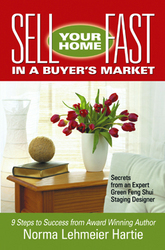 "With nine simple tips and tricks for presenting one's home as the ideal one to buy, Hartie comes at readers with no shortage of sage advice. "Sell Your Home Fast" is a top pick for anyone trying to sell their residence quickly." Midwest Book Review
(PRWEB) June 29, 2010
As a result of the Home Buyer Tax Credit expiring, housing sales throughout the country hit a record low in May. Newly released book, Sell Your Home Fast in a Buyer's Market: Secrets from an Expert Green Feng Shui Staging Designer is here to help! The seller will learn how to sell homes quickly and for the best price possible in a buyer's market. There are hundreds of tips in this book, and many are new to real estate, giving a seller a competitive advantage over their competition.
The book reveals how to create a home that buyers desire and want to buy in 9 easy steps. They what it takes to make the reader's home look and feel great—tips that will sell the home. The book also provides information on selling the home for the best price. It is the first in its subject to address the hot new sought-after green home improvements and features to sell the buyer's home fast
"Sell Your Home Fast in a Buyer's Market is a must for anyone selling their home in today's tough economy. In addition to exploring the importance of pricing your home right, staging, de-cluttering and Feng Shui, Hartie advises what eco-friendly improvements to make that will appeal to buyers. I highly recommend this book if you want to sell your home quickly and for the most money possible."
Barbara Corcoran, Real Estate Mogul, Business Consultant and Speaker
"Following each of the nine steps will prepare your home and highlight its best features. Ms. Hartie's book outlines a comprehensive plan that starts with very basic steps, from purchasing sturdy storage containers for the de-cluttering phase to cleaning every space in the home with eco-friendly cleaning products to present a perfect environment. She recommends the appropriate visual accents that draw in a buyer and appeal to their senses in a positive way. The importance of setting a scene of serenity and spaciousness is highlighted. In explaining the traditional feng shui principle that what surrounds us affects the way we feel, she artfully incorporates practical information with secrets and tips to improve the feng shui and stage each area to its best use.
Not enough can be said about the wisdom of pricing your home right, knowing about current market trends and how to deliver what today's buyers want. If you want to sell your home and maximize your return, this book is right for you. Read on, take notes, take action, and prepare to dazzle potential buyers!"
Elise M. Barry, Association Executive, Manhattan Association of Realtors
Norma Lehmeier Hartie is the author of Harmonious Environment: Beautify, Detoxify & Energize Your Life, Your Home & Your Planet, which was The Grand Prize Winner of The 15th Annual Writer's Digest Book Awards and Best New Non-Fiction USA National Best Books 2008 Hartie is a graduate of Sarah Lawrence and Parsons School of Design and has been an interior designer for over 20 years. She is the creator of the practice of Harmonious Adjustments™.
Trade paperback. 232 pages. $19.95 Cover price. ISBN: 978-0-9779633-1-7 Published by Lingham Press. Available from Amazon and most other booksellers.
Review copies are available from the author. Call Norma Lehmeier Hartie at 1.914.739.8966
###