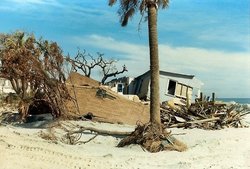 East Hartford, CT (Vocus) June 28, 2010
The uncertain track of an Atlantic hurricane will at times cross paths with the most desirable of tropical destinations, normally with vacation-ending results. Whether the experience is Hurricane Charley crossing central Florida in August, 2004, Hurricane Ivan hitting Jamaica in September 2004, Hurricane Wilma overwhelming Cancun in October 2005, or Hurricane Ike striking the Dominican Republic in September 2008, the travel impact of a storm is similar. Vacationers face sudden pressure to rebook early flights home, if available, or to find safer accommodations away from the beach. Those without help sometimes land in public shelters with kindred travelers until the local danger has passed.
Travel Insured International, a leading 3rd-party travel insurer, notes that, in addition to providing Trip Interruption coverage to reimburse unused, nonrefundable trip costs and added airfare home, it provides insured travelers with Worldwide Emergency Travel Assistance available 24/7 anywhere they travel. The Emergency Travel Assistance, accessed by a collect or toll-free call, can help bring a hurricane-disrupted vacation to a less stressful, if abbreviated, conclusion as the better alternative to a nightmare in paradise. The service, delivered by Travel Insured's assistance partner, can provide a variety of travel related help, whether the client is delayed in their home airport trying to get to their vacation spot or stuck in their destination trying to get home. Help is provided for those seeking transportation alternatives or emergency accommodations, especially when the insurance customer's own travel agent or supplier is unreachable.
Travel assistance, medical emergency assistance, ID theft assistance and concierge assistance are all included with the Worldwide Trip Protector and Worldwide Trip Protector Gold trip insurance plans. Political evacuation service is included in the Worldwide Trip Protector Gold plan, or as part of an optional medical insurance upgrade in the Worldwide Trip Protector plan. And additional business concierge services are included in Worldwide Trip Protector Gold, and available as part of the optional baggage insurance upgrade in Worldwide Trip Protector. Medical assistance services, including medical evacuation, are included with all Worldwide Trip Protector plan types, including the Trip Protector Lite and Trip Protector Lite Expanded plans.
Medical Assistance and Needed Repatriation
When a domestic or international travel insurance emergency situation involves a traveler's accident or sudden illness, Travel Insured's assistance company will first pre-approve medical assistance services and then arrange, as a covered expense, for the insured to be transported to the nearest available medical facility by U.S. standards for treatment. This service includes a hospital admission guarantee. The assistance company can arrange for the insured's dependant child to be flown home with an attendant, if necessary, included in coverage. An adult person chosen by the injured or ill insured may be flown as a covered air expense to their medical bedside. The same service will arrange air transportation of the injured or sick insured back to his or her primary residence within one year of their original return date.
Travel Assistance Services
Travel Insured's emergency travel assistance can provide other emergency services including:

Help replacing lost passports or travel documents or refilling a medical prescription.
Contacting friends or relatives
Locating lost or delayed baggage
Emergency cash advance
Translation services.
Legal referrals and many other services.
24-hour non-emergency Concierge Services are included for Worldwide Trip Protector and Trip Protector Gold travelers. The insured takes responsibility for reimbursement to the assistance company for products purchased under the concierge and business concierge services below:

Rental car and airline reservations and other services.
Dining reservation needs.
Event ticketing
Golf tee time reservations
Business Concierge Services, included in Worldwide Trip Protector Gold, and added with the Baggage insurance upgrade in Worldwide Trip Protector, can include.

Emergency travel arrangements and related services.
Emergency business communications.
Help locating business services such as express deliveries
Arrangements for telephone or web conferencing
Emergency messaging to customers and colleagues via fax, web, email, etc.
The approaching landfall of a dangerous hurricane is no time for travelers to be helpless either en route or returning from their vacation destination. Worldwide Emergency Travel Assistance, available with Travel Insured plans, can provide the needed support to beat the storm home or be safe until it has passed.
About Travel Insured International
Travel Insured International, based in E. Hartford, CT, was founded in 1993 by the foresight of insurance industry executive Peter Gehris when he acquired the travel protection division of the Travelers Insurance Company. Coverage is underwritten by Arch Insurance Company (a Missouri corporation, NAIC #11150) with executive offices located in New York, NY. Arch Insurance is rated A ("Excellent") for financial strength by the insurance rating service A.M. Best. Not all insurance products or coverage is available in all jurisdictions. Coverage is subject to actual policy language
Travel Insured International
52-S Oakland Ave.
E. Hartford, CT 06128-0568
Contact: John Stone
Media Relations Manager
1-800-243-3174 x 117
# # #