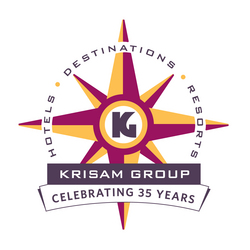 Washington, D.C. (PRWEB) June 28, 2010
This month, Krisam Group, the leading hotel representation company for independent and unique hotels worldwide, kicks off its 35th Anniversary with a glance back and a hopeful look to the future.
Krisam Group—and its founder, chairman and CEO Chris White—has been at the center of the many changes in the meetings and events industry over the past decades. White pioneered many of the major shifts himself, and picked up a lot of respect and recognition in the process.
"The early days were fun," White says, "when a handshake was all that was required to complete a deal. Business was based on trust."
In the 1970s, hotels and resorts provided far fewer services than today. White notes, "A resort was considered full service if it had a golf course and some tennis courts. Today a complete spa is a must and with any hotel a fitness center is a given, not to mention all of the electronic connections business travelers require."
Back then, he was among the few to recognize the potential of regional offices. White explains that in those days hotel executives treated individual and group business the same with no thought of using regional offices to reach a broader market. At the time, Fairmont Hotel Company, where he served as Vice President of Sales & Marketing, and Marriott were among the first to implement them.
Krisam's Beginnings
White's idea 35 years ago to create a company to represent a group of independent hotels was a first in the industry. Leaving Fairmont, he started the Krisam Group, the name a variation of his name and his father's, with five properties. Today the Krisam Group is the top national sales office representing more than 240 hotels and resorts worldwide. Some of the original Member hotels that are still with Krisam include:

Don CeSar Beach Resort, A Loews Hotel, St. Pete Beach, FL
Doral Golf Resort & Spa, A Marriott Resort, Miami, FL
Hershey Lodge & Convention Center, Hershey, PA
Homestead, Hot Springs, VA
Hotel del Coronado, San Diego, CA
Gaylord Opryland Hotel & Convention Center, Nashville, TN
Silverado Resort, Napa, CA
Dramatic Expansion
While building Krisam's hotel Membership, White also launched several other related businesses—two travel agencies, and a reservations service for individual customers. He has since sold those but his 1999 creation—Global Events Partners (GEP)—is now a partnership of more than 65 leading destination management companies (DMCs) serving over 92 destinations worldwide.
GEP now owns seven DMCs in key markets including Atlanta, Baltimore, Bahamas, Philadelphia, South Florida, Utah, and Washington, D.C.
To help serve all the needs of meetings professionals, Krisam and GEP formed a special alliance with IEP, a nationally known production company. "This makes us truly a one-stop shop for meeting and event planners," White explains.
The Future
White is optimistic about the future of the industry and of Krisam. Regardless of the economic downturn, he sees hope in the new hotels under construction in the U.S. He sees planners selecting some second-tier cities, such as Memphis and Salt Lake City, to save money while still providing a great experience. And he sees location and accessibility continuing as key attributes for a property to be selected for a meeting or event.
White acknowledges that the industry has accepted the fact that this is a changed world, "A week doesn't go by without a crisis somewhere." He cites volcanic ash, the decline of the Euro, riots in Thailand, floods and oil spills in the U.S. as examples of acts that can disrupt an event. White believes that insurance that covers cancellations, as well as medical emergencies, can help ease the concerns of planners. Toward that end, Krisam Group and GEP will be offering a service to help planners with this need later this summer.
As for the dramatic changes brought on by the Internet, White sees them as mostly positive. However, he also views the Internet as a bit of a competitor. "Virtual meetings with 12 to 15 people are easy to hold. They're here and they save money. But there will always be a need for larger meetings. Nothing beats face to face where you can see body language and expressions. And nothing beats face to face for establishing personal relationships."
One of White's greatest hopes for the future is that more bright young people will choose to enter the hospitality profession. "This is one of the most creative, most exciting businesses you can be in," he says.
Helping Shape the Industry
Among his many achievements, White has been named one of "20 Who Made a Difference" in the meetings industry by Meetings and Conventions Magazine. He has been inducted into the Hospitality Sales & Marketing Association International Hall of Fame. And he was recognized by Business Travel News as one of the industry's "25 Most Influential Executives."
In 1993, White launched The Masters Program, providing an annual forum for CEOs and Senior Executives in the travel industry. He is also well known in Washington, D.C. for helping to educate inner-city children through his efforts with the I Have a Dream Foundation, Teach for America and as a trustee of Friendship Public Charter Schools.
About Krisam Group
Krisam Group, a membership organization since 1975, is the top national sales company representing over 240 independent and unique hotels, and the leading advocate and service provider for meeting planners. For more information on Krisam Group, visit http://www.krisam.com.
###