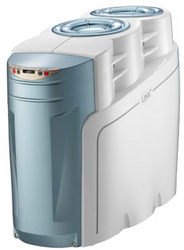 The response to the LINX in the marketplace has been so positive we just shipped our 1,000th unit. Consumers are buying up systems as fast as we can ship them.
San Carlos, CA (PRWEB) June 25, 2010
Just a few short months ago the Pionetics Corporation introduced the LINX® Water Treatment System, the smartest drinking water system ever made. Sales for the LINX Drinking Water System have been going so well, the company just shipped its 1,000th unit.
"The LINX Drinking Water System represents the first real advancement in the drinking water industry in nearly 30 years," said H. Martin Jessen, Vice President of Pionetics Corporation. Jessen continues, "The response to the LINX in the marketplace has been so positive we just shipped our 1,000th unit. Consumers are buying up systems as fast as we can ship them."
The revolutionary new LINX Drinking Water System allows for three important and unique features never before offered in a drinking water system:

Significantly less water waste than Reverse Osmosis (RO),
Operates using programmable software and display indicator lights that provide the consumer with detailed system status, and
Dial-A-Taste® Control that allows the consumer to customize the taste of their drinking water for more or less mineral content.
In San Diego, LINX distributor Rayne of San Diego has been unable to keep units on the shelves. Bob Hickey, Rayne Corporation's California Regional Manager explains why these systems have been such a success here, "These units strike a chord with southern California consumers. When consumers here realize they can buy or lease a unit that is technologically superior to an RO and save significantly more water in the process, they want it." See Rayne of San Diego's website at RayneofSanDiego.com.
In Italy, Culligan of Italy has signed up to be an exclusive LINX distributor. Nicola Di Paola, Marketing Consumer Director explains why, "When consumers in Europe treat their drinking water, they must leave at least three (3) grains of hardness in the product water. Having a system that allows consumers to dial their water quality is a significant breakthrough. We can finally offer a way for consumers to get great tasting water in their homes which meets government requirements. We also like the UV feature which provides disinfection benefits." The LINX Drinking Water System is sold as the Culligan "Innovation" in Italy. See Culligan of Italy's website at culligan.it/.
Pionetics is currently signing new distributors. Anyone interested in becoming a distributor anywhere around the world – should contact H. Martin Jessen at 480-836-0887.
About Pionetics Corporation:
Pionetics is an innovative water technology company that develops smart water treatment products that produce great tasting, safe drinking water with less wastewater than traditional water treatment systems. Pionetics is privately owned and financially backed by Kline Hawkes & Co, NGEN Partners, and Unilever Technology Ventures Fund.
Pionetics is located in San Carlos, CA. To date, Pionetics has been issued over 50 patents worldwide to protect its proprietary know-how and innovative technology.
###