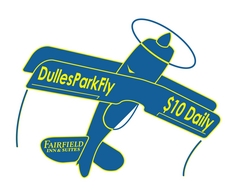 Sterling, Virginia (Vocus) June 25, 2010
New Dulles airport parking is now available adjacent to the Fairfield Inn & Suites Dulles Airport, conveniently located at the intersection of Routes 28 and 606. Just a few minutes shuttle ride to Dulles Airport, travelers who do not require overnight accommodations can now take advantage of comfortable, affordable and secure parking with perks.
For $10 per day, Dulles Park Fly users have not only have access to convenient airport shuttle service but also to the public facilities such as the warm, inviting lobby to catch up on some work while enjoying a complimentary cup of coffee along with the ability to print boarding passes.
A convenient alternative to on-site Dulles airport parking, Dulles Park Fly at the Fairfield is situated at Route 28 and 606 and just minutes from the Toll Road (267). The shuttle service uses the back entrance to the airport to transfer patrons quickly and without delay – and shuttle drivers assist with luggage.
Shuttle service runs regularly for departures and, upon return, travelers need only call 703-435-5300 and the facility's Dulles airport shuttle will be there in minutes, offering assistance with luggage and safely delivering patrons back to their vehicle.
Those desiring overnight accommodations may take advantage of Park Here, Fly There Packages at the Fairfield Inn & Suites, appealing especially to those with early flight departures for international travel or families with young children who need some extra time at the airport prior to their flight. The Dulles airport shuttle service makes quick access to the international airport hassle-free.
Finding the Fairfield Inn & Suites and Dulles Park Fly is easy. Going west from the Toll Road, Exit 9B to 28 North, go ½ mile Exit 606W/Old Ox Road West, go ¼ mile, R on Pacific, Fairfield Inn and Suites and Dulles Park Fly will be on your right. Or going East from Green Way, Exit 8B to 606E/Old Ox Road East, go 1 ½ miles, L on Pacific, Fairfield Inn and Suites will be on your L on the corner.
For more information on the new Dulles airport parking service, call 703-435-5300 or visit http://dullesparkfly.com
About Dulles Park Fly
Dulles Park Fly is located at the Fairfield Inn & Suites at Rt 28 and 606. We offer Dulles airport parking with a convenient and comfortable five-minute shuttle as well as overnight hotel packages with long-term parking, ideal for international travelers. To call for shuttle pick-up or inquire regarding overnight packages and long-term parking, call 800-328-8001.
Contact:
Russ Legendre
General Manager
703-435-5300
russ(dot)legendre(at)marriott(dot)com
###