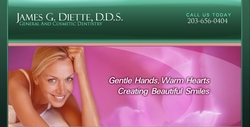 Darien, CT (Vocus) June 25, 2010
A practice offering cosmetic and restorative dentistry options such as dental implants in Fairfield County, CT is grabbing onto the future of communication by implementing a number of new technologies – and making it easier for patients to get information, provide feedback, and receive important reminders about their care.
Dr. James G. Diette with Darien Family Dental Care has joined the more than 400 million people around the world who are now connected to Facebook and is using the social network to reach out to patients in new ways. With his Facebook page, Dr. Diette can provide patients with before-and-after photos, up-to-the-minute information on events at his practice, as well as information on procedures available such as teeth whitening and porcelain dental veneers in Fairfield County, CT. The practice's Facebook profile also allows patients to contact the practice on a new kind of platform, interact with other patients, and seek advice on an array of dental and oral care topics.
In addition to the new Facebook page, Dr. Diette is further enhancing his reach to patients by offering an innovative new program called Smile Reminder. The technology is a patient messaging system designed to deliver vital information instantly to their cell phone, e-mail account, or pager. Smile Reminder can give patients reminders on appointments, recalls, late cancellations, pre-med alerts, and other information. It also allows the recipient to confirm the information and even place appointments on their own calendars at the touch of a button.
Dr. Diette says that new technologies and internet advances such as Smile Reminder and Facebook offer patients new ways to communicate with the practice and obtain important information about their care – and that can ultimately have a positive effect on their overall outlook on receiving dental work, as well as the health and beauty of their smile.
About Darien Family Dental Care
Darien Family Dental Care is overseen by James G. Diette, DDS. Dr. Diette offers cosmetic, restorative, and pediatric dentistry in Fairfield County, CT. He has served the Darien, Connecticut region for more than 26 years, and is a member of the American Dental Association, the Academy of General Dentistry, the Connecticut State Dental Association, and the Stamford Dental Society.
Dr. Diette partners with Michael Wiener, DDS, a periodontist and implantologist. Dr. Wiener specializes gum surgery and dental implants, and is a graduate of the State University of New York School of Dental Medicine at Stony Brook. Dr. Wiener completed his three-year residency in periodontics and implantology at that same institution, and has written a number of articles for leading dental publications covering topics such as diagnosis of periodontal disease and bone regeneration.
Darien Family Dental Care can be reached at 722 Post Road, Darien, Connecticut 06820 – (203) 656-0404. http://www.dariencosmeticdentistry.com.
###