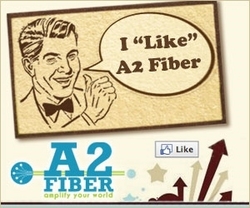 "Ann Arbor is ready for Google high speed fiber internet. Show your support by "Liking" the A2Fiber Facebook page, and adding a banner to your site."
Ann Arbor, MI (PRWEB) June 25, 2010
If you Like A2Fiber get ready to show your support! The City of Ann Arbor, The University of Michigan, Community Organizations, and Local Businesses are coming together to launch the "I Like A2Fiber" campaign to support Ann Arbor's bid for Google high speed fiber optic internet.
You can download badges to put on your web site or blog showing your support and asking your network to "Like" the Ann Arbor Fiber page on Facebook. The community emphasis of this campaign is a way for individuals, non-profit organizations, and businesses to show their support.
"Ingenex Digital Marketing and community organization Lunch Ann Arbor Marketing plan to put I Like A2 Fiber banners up. High speed fiber optic internet will benefit the Ann Arbor community. And putting a banner up on your web site is an easy and effective way to show support for A2 Fiber," says Derek Mehraban, Ingenex CEO and LA2M Founder.
The badges can be downloaded at http://www.a2fiber.com/i-like-a2fiber and they fit standard sizes for web banners and badges. The banners link to the A2 Fiber Facebook page, and make it easy for you and your network to "Like" the page and show support.
"Our goal is to show that Ann Arbor and the University of Michigan really want Google High Speed Internet by engaging the community and the university and having fans of our efforts take the step and 'Like' our Facebook page. What an easy way to get involved and show support. WE are really grateful to all our supporters, students, and community members!" says Joan Witte, Director of Communications, Information and Technology Services.
To learn more about Ann Arbor's effort to win Google Fiber high speed Internet or A2Fiber as we like to call it, visit our web site at http://www.a2fiber.com/i-like-a2fiber or visit us on Facebook at http://www.facebook.com/a2fiber
###