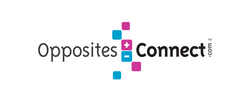 "Opposites Connect brings curiosity back to dating, creating a fun forum for making dates insightful and engaging again. We provide a platform for couples to learn more about each other from the first time they meet with their opposite."
New York, NY (PRWEB) June 28, 2010
Opposites Connect is an online dating service centered on the age-old concept of connecting soul mates based on opposite preferences. While the vast majority of dating sites are built upon abstract notions and compatibility calculations, the premise behind Opposites Connect and its proprietary matchmaking software is to spark thought-provoking conversation and debate between two people with unique sets of viewpoints and characteristics.
Opposites Connect blends avant-garde matching with entertainment and social networking tools to deliver a revolutionary dating experience. Other dating sites actually aid singles in making the classic mistake of choosing the "same type" over and over again. Opposites Connect gives singles the chance to meet someone different, someone they normally may discount, but could have much to offer.
This new online dating site is based on the practical insights of a panel of leading psychotherapists and relationship experts in conjunction with serial entrepreneur CEO Larry Wilson.
"Most dating sites use unrealistic compatibility scores, matching couples who may be right on paper but in the real world have little to talk about. When you're only dating what is on the profile versus what they represent in person, you're only scratching the surface of who they really are," said Larry Wilson, CEO of Opposites Connect. "Opposites Connect brings curiosity back to dating, creating a fun forum for making dates insightful and engaging again. We provide a platform for couples to learn more about each other from the first time they meet with their opposite."
Take A Spin on OppositesConnect.com…it's free!
To find a deeper connection, Opposites Connect encourages members to start with the quiz designed to help navigate the search for their opposite. This entertaining matchmaking quiz includes two rounds of multiple-choice questions – a 'Lightning Round' of two choice answers, and a set of "Morality Play" questions that puts the test taker through a series of dilemmas.
When completed, the quiz constructs a personality portrait. Unlike other online dating questionnaires that can take an hour or more to complete and may end in rejection, members will be able to complete the Opposites Connect personality quiz in about ten minutes. The quiz was designed by our panel of psychotherapists and relationship experts and utilizes sound methodology in connecting different personality types.
For a lighter approach to finding an opposite connection, members can make their feelings known with "OppoVote," a weekly poll that matches individuals based on their reactions to current events. Singles can also debate in the "Rivals Room," a series of member-created fan clubs where users declare passions and carry on conversations with those who have the opposite point of view.
"While many contemporary subscription-based online dating services tout marriage "rates" as their barometer of success, Opposites Connect believes that people understand their relationships must first be rewarding in order to become long term," said Diane Lykes, psychotherapist for OppositesConnect.com. "For some, that may mean marriage, but for many others it is defined by a series of fun dates with engaging conversations leading to a longer term respect for one another."
Beyond creating a richer and far more rewarding dating experience, Opposites Connect has all the functionality of traditional social networking sites including instant messaging and emailing capabilities without having to leave the site.
About OppositesConnect.com
OppositesConnect.com was founded in 2008 and is based on the premise that the most rewarding relationships result from thought-provoking conversation. The service presents users with their 'opposite' connections based on a series of unique viewpoints and personality traits intended to inspire non-controversial interactions. Opposites Connect is available in the United States.
###