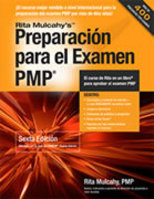 The release of this Spanish translation represents RMC's growing commitment to the international-ization of Project Management
Hopkins, MN (PRWEB) June 26, 2010
Building on the worldwide success of its English and Brazilian Portuguese versions, RMC Project Management has released a Spanish-translated version of PMP® Exam Prep by Rita Mulcahy, the best-selling project management exam preparation book in the world. This new translation will be available directly from RMC for customers within the United States and Canada, and through It Era, an Authorized RMC Product Distributor, in the rest of the world.
"The release of this Spanish translation represents RMC's growing commitment to the internationalization of Project Management," stated Rita Mulcahy, Founder and CEO of RMC Project Management. "At RMC, we understand that the practice of Project Management is not an 'English only' endeavor."
"The fact we were able to complete this translation so quickly after the English version speaks not only to the quality of RMC's processes, but to our commitment to the Spanish-speaking PM marketplace," noted Eric Rudolf, Director of Marketing for RMC Project Management and RMC Publications. " You can't call yourself a global provider of project management training, and expect the world to adapt its training to your native language." Rudolf also revealed that discussions are heating up for the translation of PMP® Exam Prep into at least two additional languages.
When queried, Rudolf also acknowledged that RMC would be translating its full suite of PMP® prep materials into Spanish—including its Hot Topics PMP® flashcards, and its best-selling exam simulation software, PM FASTrack®. Spanish language PMP® prep courses will also be delivered soon in several countries, including Mexico and Spain.
ABOUT RMC PROJECT MANAGEMENT AND RMC PUBLICATIONS (RMC)
Founded by Rita Mulcahy in 1991, RMC is the worldwide innovator in project management training and professional development. Over the last 18 years, tens of thousands of project managers in over 50 countries have utilized one of RMC's professional development resources, classes, or e-Learning courses to expand their project management knowledge and further their careers. Today, RMC offers a wide range of innovative classes and products for beginning project managers, advanced PMs, and project managers seeking an internationally recognized certification.
# # #