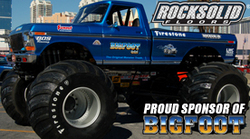 We always are on the lookout for a team that can help convey a message of strength, durability, and toughness, just like our RockSolid Floors product does.
Minneapolis, MN (PRWEB) June 28, 2010
RockSolid Floors DIY Polyurea floor coating is the newest sponsor of BIGFOOT® 4x4 Inc. and their fleet of BIGFOOT monster trucks! RockSolid, which produces the world's only environmentally safe one-day do-it-yourself Polyurea floor coating system, are proud to show their support for Team BIGFOOT and the monster truck® racing industry.
After meeting at the PRI trade show in Orlando in late 2009, RockSolid Floors Founder/--CEO Patrick Ilfrey and representatives from Team BIGFOOT set the wheels in motion to determine how to forge an alliance between the two trend-setting companies. "We have been very selective with regards to race team sponsorships since our inception," said Ilfrey. "We always are on the lookout for a team that can help convey a message of strength, durability, and toughness, just like our RockSolid Floors product does. And when we began talking with Team BIGFOOT, we knew we had found what we were looking for. The originated the monster truck industry 35 years ago, and their trucks have gone on to become American icons."
Effective immediately, Team BIGFOOT's fleet of five competition monster trucks and two static display monster trucks will sport RockSolid Floors decals on their fiberglass truck bodies. The team's fleet of monster trucks average over 700 appearance days annually, between races, exhibitions, and static displays. The partnership between the two companies isn't strictly limited to cosmetics, however. With the assistance of SealGuard of St. Louis' professional install team, RockSolid Floors helped renovate Team BIGFOOT's 3800sq ft. showroom by laying down a beautiful RockSolid full-chip "denim" Polyurea floor system, just in time for the team's June 26th open house/35th anniversary celebration.
"To say we are excited to be working with RockSolid Floors is an understatement," said BIGFOOT marketing coordinator Kyle Doyle. "Everyone here at BIGFOOT has quickly become a believer in the product. I personally worked with and observed the SealGuard team installing the RockSolid Floors coating in our showroom, and I was impressed with how easy the product was to use. It truly is a user-friendly product."
The RockSolid Floors one-day DIY Polyurea garage floor coating system is a solution for professionals and automotive enthusiasts alike. The system features the same Polyurea the company manufactures for industrial and commercial applications, such as in nuclear power plants, hospitals and manufacturing facilities, through Citadel Floor Finishing Systems.
"Our Polyurea coating system holds up under very intense conditions," explained Ilfrey. "With 98% elongation and four times the strength of epoxy floor paints, our Polyurea kits won't crack, peel, or fade. Whether they are racers, shop owners or homeowners, our customers can install durable new floor coatings that can be driven on the very next day. The coatings will even hold up against steel wheels of floor jacks and other common garage equipment, while looking as good as the day it was installed for years."
With ultra low volatile organic compounds (VOCs), RockSolid Floors Polyurea Kits are safe for the environment as well as installers. The material is non-toxic, and contains no harsh chemicals common in epoxy floor paint systems, meaning there is almost no odor during and after the installation process, which allows a faster return to service time.
About BIGFOOT 4x4 Inc.
Based in St. Louis, MO, BIGFOOT 4x4 Inc. currently owns and operates one of the largest independently-owned fleets of monster trucks in the world, with as many as nine or more vehicles touring and performing each year. BIGFOOT #1, The Original Monster Truck, began life as a stock F-250 pickup used by BIGFOOT owner/creator Bob Chandler to promote his fledgling four wheel drive shop back in 1975. His shop, Midwest Four Wheel Drive & Performance Center, soon became the premier name in off-road performance and fabrication in the Midwest, and eventually gave birth to the original BIGFOOT monster truck, and affiliate company BIGFOOT 4x4 Inc. Since that time, more than 20 vehicles have carried the BIGFOOT name, and have appeared in over 20 countries for a grand total of over 26,000 appearance days.
Today, team BIGFOOT is widely regarded as the most successful monster truck team in history, with 26 national championships to their credit, in addition to countless accolades, awards, and honors. In 2009, BIGFOOT was named one of the Top 5 Marketing Vehicles of All Time.
For more information on Team BIGFOOT, please visit them online at http://www.bigfoot4x4.com, or by calling 314-731-8112.
About RockSolid Floors
RockSolid Floors is an affiliate company of Citadel FloorFinishing Systems, launched in January 2008. Citadel FloorFinishing Systems is the leader in one-day Polyurea garage floor installations. Their revolutionary and patented Polyurea floor coating system is changing the face of garage improvement, as the only one-day do-it-yourself Polyurea garage floor coating on the market. The company headquarters are located in Blaine, MN.
For more information about Rock Solid Floors DIY Polyurea garage floor coating systems or the company's sponsorship of BIGFOOT 4x4 Inc., please visit http://www.rocksolidfloors.com.
Contact:
Patrick Ilfrey, CEO / Founder
RockSolid Floors
3001 103rd Lane NE
Blaine, MN 55449
Phone: 1-866-765-4474
patrick(at)rocksolidfloors(dot)com
# # #