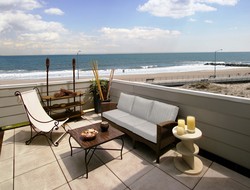 Arverne, Queens NY (PRWEB) June 25, 2010
Arverne By The Sea is Grand Opening a brand new designer furnished oceanfront model June 26th and 27th. The new 2- family floor plan, "The Hawaii" features a master bedroom suite and a private rooftop terrace with an unobstructed ocean view. The model showcases a flexible floor plan with a bonus room and includes a 2 or 3 bedroom income producing rental. A limited number of these breathtaking homes are being offered with Special Sales Incentives.
For more information, please contact the Arverne By The Sea Sales Center at 718-474-5400
The Sales center is open Monday-Friday: 10:00am-6:00pm, Saturday-Sunday 10:00am-6:30pm or visit our website at http://www.ArverneByTheSea.com
Arverne By The Sea is a 127-acre, master-planned community that when completed will consist of 2300 homes set on the Atlantic Ocean. Now under construction is the 30,000 square foot YMCA community center and a Stop and Shop*. Also planned is 221,000 square feet of retail space, a refurbished subway station, a marina, a charter school, neighborhood parks and natural preserves. Two-family homes priced from $559,000.**
About Benjamin Beechwood, LLC. Benjamin Beechwood, LLC, brings together resources of The Benjamin Companies and The Beechwood Organization. The Benjamin Companies is a nationally acclaimed real estate development and management company, with a reputation for innovative residential and commercial development, guided by a commitment to community and building in harmony with the environment. The Beechwood Organization is the largest developer of residential housing on Long Island and one of the largest developers of residential two-family homes in New York. These two local, highly successful, award-winning development companies have an incomparable history of outstanding success in the real estate industry. Today, their partnership has culminated in their most inspired master plan, Arverne By The Sea.
*Future Phase. **Prices Subject to change without notice.
###