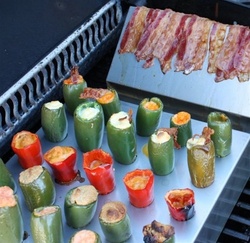 Dixie Grillworks has built a strong following with caterers...By offering the same high-quality equipment to backyard chefs, we feel certain that we'll quickly get a fan base of hardcore grillers and tailgaters.
Somerville, AL (PRWEB) June 29, 2010
Dixie Grillworks (http://www.dixiegrillworks.com), a fast-growing U.S. manufacturer of grills, smokers and grilling accessories, announced today that they have completed a site-wide price reduction that includes all of their stainless steel grilling accessories. The price reduction was accompanied by a site overhaul designed to make the site more appealing to home grilling enthusiasts.
In 2009, Dixie Grillworks caught the attention of grill manufacturers, catering professionals and barbecue industry insiders with their unique grilling tools. In addition to "private label" manufacturing of grills and related products for specialty cooking supply outlets, Dixie Grillworks also launched and refined their website. As sales increased, a surprising number of orders came from caterers and professional barbecue chefs. Because of the high quality and durable construction, the cooking tools offered by Dixie Grillworks were priced outside the reach of some home grillers. This led the company to shift its focus towards customers in the food service industry. The recent transition towards site design that appeals to home users, combined with a price decrease of up to 20% on popular products, is intended to significantly increase Dixie Grillworks' sales volume in the retail market.
"Dixie Grillworks has built a strong following with caterers. They need rugged equipment that will withstand frequent use. We've spent a great deal of energy marketing to people who use our products to earn a living. By offering the same high-quality equipment to backyard chefs, we feel certain that we'll quickly get a fan base of hardcore grillers and tailgaters," said Mr. John Thomason, Dixie Grillworks' Vice President. "We've gotten our production volume where it needs to be in order to reach a price point that will appeal to even the most budget-conscious home grillers," he added.
Dixie Grillworks offers several variants of their two most popular stainless steel grilling accessories. The Grillipede is a specially formed stainless steel rack that can be used to roast stuffed jalapeno peppers, cook Buffalo-style chicken drumettes, or grill kabobs. It is available in several sizes for use with compact home grills, full size gas or charcoal grills, or commercial catering equipment. The Bacon Boss is a unique stainless steel tent-shaped tray that enables the user to prepare bacon on a grill. Because grease is routed away from the meat during cooking, the bacon can be flavored by smoking or by applying a rub or sauce. The application of barbecue sauce, maple syrup or dry rub gives the bacon a noticeable flavor boost. Like the Grillipede, the Bacon Boss comes in a variety of sizes for various uses.
Mr. Todd Hicks, manufacturing manager for Dixie Grillworks, thinks the new pricing will help get the attention of potential customers outside of the food service industry. He commented, "Our accessories are very popular with cooking professionals because they're so sturdy. They're made from 16 gauge U.S. prime stainless steel and come in larger sizes than other brands. Obviously, they are going to cost more than smaller versions that are made in China using material that is less than half as thick. By discounting our accessories so that they are priced competitively with the light-duty Chinese products, we're confident that we'll win more business from casual home users and weekend tailgaters."
Mr. Josh Strickland, who manages the Dixiegrillworks.com site, feels that the timing of Dixie Grillworks' decision to vigorously pursue the home user market is perfect. "The demand for high-end grills and grilling accessories continues to be high. We were originally concerned that it might be a passing fad, but there is still a strong contingent of buyers who want to make their backyard cooking experience as pleasant as possible. It has been suggested that the sluggish economy is still causing many families who would normally travel over the summer to focus instead on having fun around the house or close to home. We've made changes to the website that should appeal to these potential customers. We've also added features to the site, such as a blog that includes photos and recipes, that help differentiate our products and our company's philosophy from the competition," he said.
Dixie Grillworks currently offers a variety of heavy-duty stainless steel grilling accessories through their website (http://www.dixiegrillworks.com).
###