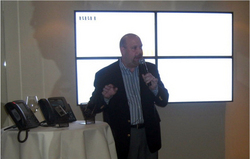 With MVS 5.0, BlackBerry users can have secure access to office voice communication features from their smartphones, anytime and anywhere.
New York, NY (PRWEB) June 25, 2010
BBH Solutions, Inc., a leading New York City provider of converged network solutions and IT maintenance services, held a special event on June 23rd to introduce BlackBerry Mobile Voice System 5.0 (BlackBerry® MVS) to New York area businesses. BlackBerry® MVS is designed to unify fixed and mobile voice communications to enable business users to use their regular desk phone number and extension from their BlackBerry® smartphone. Users benefit from one business phone number, one caller ID, one voice mailbox, and office phone features on their BlackBerry smartphones.
The event, hosted by BBH Solutions and BlackBerry at SD26 restaurant in Manhattan, featured an informative presentation on the business benefits, architecture, security features, and policy controls of BlackBerry® MVS 5.0. The presentation was followed by a demonstration of the MVS 5.0 solution working in a live environment via a Cisco SRST Gateway connected back to BBH Solutions' own Cisco Unified Communications Manager.
"BBH Solutions has enjoyed a great relationship with BlackBerry since 1999, when having the ability to send and receive email on a pager-sized device was a new concept," said Bruce Hoernecke, President and CEO of BBH Solutions. "Now, with MVS 5.0, BlackBerry users can have secure access to office voice communication features from their smartphones, anytime and anywhere."
BlackBerry® MVS 5.0, which is optimized for Cisco Unified Communications Manager 6.1 and later, leverages Voice over Wi-Fi® technology to save on mobility costs and improve productivity. Features include the ability to ring up to four devices simultaneously, extension dialing from BlackBerry smartphones, and the ability to move calls between Wi-Fi and mobile networks.
BBH Solutions is a leading reseller of the BlackBerry® Enterprise Solution, including client access licenses (CALs), and BlackBerry® Technical Support Services agreements in the United States. Beyond the sale, BBH Solutions has developed a staff of qualified personnel that can install, integrate, and maintain BlackBerry environments throughout the country.
About BBH Solutions, Inc. - Manhattan-based BBH Solutions, Inc. provides technology services with a focus on the converged network and unified communications. BBH Solutions has Gold Partnership status with Microsoft and APC, and is a member of the BlackBerry® Alliance Program. They are certified by Cisco Systems in Advanced Unified Communications and Advanced Wireless LAN. Their Cable Infrastructure Group is certified by all major cable and connectivity manufacturers. A leader in providing customized network maintenance plans with their BBHWorks program, BBH Solutions offers services including on-site visits, remote monitoring, business continuity planning, disaster recovery, offsite back up, and strategic IT planning. BBH Solutions opened a second office on Long Island in 2006, and is an Inc. 5000 Honoree for 2008 and 2009. For more information about BBH Solutions, Inc., go to http://www.bbhinc.com.
The BlackBerry and RIM families of related marks, images and symbols are the exclusive properties and trademarks of Research In Motion Limited.
###