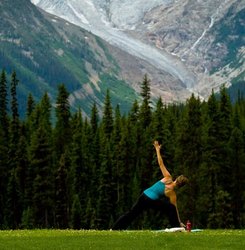 We laugh, we hike, we cry, we drink, we dance, we learn, we do yoga, we breathe, we hug, we laugh some more and most importantly, we share the gift of friendship on this amazing girlfriend getaway
Banff, Canada (PRWEB) June 29, 2010
Smashing the traditional mold of a spa/shopping girlfriend weekend retreat, CMH Summer Adventures takes the girlfriend getaway and blasts it to new heights. CMH Summer Adventures (Canadian Mountain Holidays) brings together an exciting new array of short girlfriend getaways designed for women who like to take charge and experience life to the fullest.
The ever popular Bodacious in the Bugaboos (August 26 – 29) annual women's retreat, hosted by women's leader extraordinaire Ellen Slaughter, combines equal parts of guided alpine hiking, yoga, laughter and friendship - all based from the luxurious comforts of the stunning Bugaboo Lodge.
"The CMH team – the fantastic guides, the lodge staff and our chopper pilot – embrace our spirit and pamper us from morning to night so we can do what a group of Bodacious women does best! We laugh, we hike, we cry, we drink, we dance, we learn, we do yoga, we breathe, we hug, we laugh some more and most importantly, we share the gift of friendship on this amazing girlfriend getaway," says Ellen Slaughter, host of the Bodacious women's getaways.
New this year, Bodacious in the Bugaboos – Yoga Rocks! (July 9 – 12) takes the original Bodacious recipe and adds a few more helpings of Yoga to appeal to those seeking a little more zen with their Bodacious girlfriend getaway.
Focusing even more deeply on the yoga component Heli-Yoga, (July 15 – 18) at the Bobbie Burns Lodge allows girlfriends to be transformed by the power and mystery of nature's beauty. Nourished, centered and revitalized with daily yoga and meditation guests learn how to achieve a Peak Experience in every moment of life on this exclusive yoga holiday.
The new Stretch 'n Stir Girlfriend Getaway combines sisters Sandra Davis and Julie Sagan in an alpine experience that mixes yoga, cooking and Heli-Hiking in the iconic Bugaboo Mountains (August 20–23). Chef Sandra Davis creates mouth-watering delights from her catering business The Saucy Gourmet, while her sister, yoga master Julie Sagan, stretches her clients at the Bikram Yoga West Edmonton Studio.
Also new for 2010 is Bikini Boot Camp in the Bugaboos (Sept 4 – 7), a CMH Summer Adventure designed to jump start your fall fitness regime. Bikini Boot Camp co-founder Dawn Kosloski will bring her energy and excitement to CMH's Bugaboo Lodge leading boot camp fitness classes each day in combination with guided heli-hiking with CMH's professional guides. Mix in lots of laughter, typically fantastic CMH cuisine and hospitality and this is sure to be a long weekend that will live on in your memory forever.
And finally, an adventurous twist on the classic - Bodacious get Bo(u)lder (August 29 – Sept 1) mixes it up a little more, challenging women on the Bobbie Burns High Flying Adventure while adding some feather boas, yoga and some Bodacious surprises. Try your hand on CMH's via ferrata route on Mt. Nimbus and tackle the canyon trail with it's multiple zip-lines, ropes course and forest hiking trails.
CMH Summer Adventures trips are priced from CAD$2,490 (approx. US$2,447) per person for a 3-night escape, based on double occupancy and exclusive of HST.
For more information, please visit: http://www.cmhsummer.com or call 1-800-661-0252.
About Canadian Mountain Holidays:
Offering heli-adventures since 1965, Canadian Mountain Holidays is the world's oldest and largest heli-skiing and heli-hiking operator. From their head office in Banff, Alberta, CMH operates exceptional mountain experiences at 11 lodges located in the Bugaboo, Purcell, Selkirk, Kootenay, Monashee, and Cariboo ranges of British Columbia, Canada. Heli-skiing takes place each year from December through April, and CMH Summer Adventures take place from July into early September.
# # #