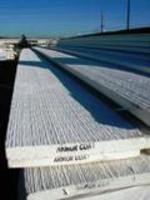 We're looking forward to working with iLevel
Seattle, WA (Vocus) June 27, 2010
To continue providing builders and dealers with ready access to leading structural frame products, exterior finishing materials, and other building supplies, iLevel by Weyerhaeuser is now distributing Armor Coat™ trim and fascia. The factory-primed, water-borne acrylic coated whitewood product made by Belco Forest Products is an aesthetic, durable alternative to traditional alkyd-coated trim. http://www.ilevel.com
Armor Coat's two-coat formula provides superior protection against the elements. The first coat includes borate and inhibitor solutions applied directly to the wood fiber, rather than mixed in with the primer. This allows the treatment to fully penetrate the lumber rather than just the primed surface area to better protect against termites, fungal decay and mold. The second coat is a state-of-the-art, water-borne acrylic primer that includes enhanced resin content for increased primer performance. The acrylic primer emits 87 percent less VOCs than typical alkyd-based primers, and is less susceptible to chronic decay. Belco Forest Products backs Armor Coat trim and fascia with a 20-year limited warranty.
"Armor Coat has all the attributes builders and dealers are looking for in trim and fascia products," says Reed Brunson, National Product Manager for iLevel. "It's manufactured by a reliable company, is designed to stand the test of time and uses a water-based acrylic primer to significantly reduce VOC emissions. On top of that, it looks good."
"We're looking forward to working with iLevel," says Jason Staley, National Sales Manager for Belco Forest Products. "Belco's goal of providing quality and value to the trim and fascia market is realized through partnerships with world class supply chain managers like iLevel. They've got unmatched distribution capabilities in the building industry and their sales team and technical experts are trusted by builders and dealers."
As a leader in the structural frame products, software and services market, iLevel efficiently distributes a range of high quality building products throughout the U.S. and Canada. In addition to offering its own specialty lumber and engineered wood products, iLevel distributes cedar, siding and trim, insulation and housewrap, steel and concrete forming products, and other related materials.
About iLevel by Weyerhaeuser
iLevel is Weyerhaeuser's integrated residential, multi-family and light construction framing business providing seamless, unified building solutions. By offering the most comprehensive and innovative collection of proven structural framing materials, technical support and software in the building industry, and the means to distribute them efficiently, iLevel is leading the structural frame market and helping builders and dealers succeed in today's challenging business environment. http://www.ilevel.com.
About Weyerhaeuser
Weyerhaeuser Company, one of the world's largest forest products companies, began operations in 1900. We grow and harvest trees, build homes and make a range of forest products essential to everyday lives. We manage 22 million acres of timberland worldwide on a sustainable basis in compliance with internationally recognized forestry standards. At the end of 2009, we employed approximately 14,900 employees in 10 countries. We have customers worldwide and generated $5.5 billion in sales in 2009. Our stock trades on the New York Stock exchange under the symbol WY. Additional information about us is available at http://www.weyerhaeuser.com.
###