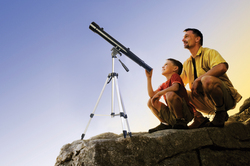 Racine, WI (PRWEB) June 28, 2010
Tom Smith, John Wagner and Mike Harris are pleased to introduce their new company, Learning Encounters to the world. The company was formed because the founders saw that there was a need in the market for good quality, yet affordable products for science education. The company is also focused on developing products that ignite imaginations and instill a lifetime love of learning and scientific exploration.
Learning Encounters plans on releasing a number of products in time for the fall school season including: telescopes, microscopes, a digital camera and accessories for each category. The telescopes will be based on the design of the award-winning "Galileoscope" a telescope that founder, Tom Smith, designed for the 2009 International Year of Astronomy.
Beyond just offering products, the company plans on fostering education by creating a vibrant online community that encourages people to share their discoveries online. The Learning Encounters website will be a robust environment where parents can download experiments, teachers can find lesson plans and students can share photos of their discoveries. Plans are in place to have the fully functioning site in place by early September 2010. In the interim, a "prototype" site is in place at http://www.LeoScienceLab.com
To create a bit of buzz the prototype site features a fun interactive 3-D augmented reality experience featuring the Moon rotating around the Earth. Learning Encounters is also active on Facebook and Twitter with the goal of creating a community of followers interested in learning about science.
Learning Encounters will donate products to people in developing areas of the world who don't have access to quality educational products. The company will also enhance its giving program by allowing others to purchase products for donation.
# # #