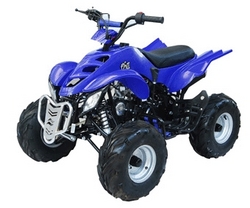 What separates Q9PowerSports.com from the rest is summed up in one simple word, Support.
Madison, WI (PRWEB) June 28, 2010
Q9 Powersports has been in business for the past six years and in a business where there are many fly by night vendors, Q9 is proud to be a leader in the wholesale distribution of Cheap prices Atvs, dirt bikes and go karts.
One simple fact that has kept Q9PowerSports.com in the leader seat is that they concentrate on customer support and have expanded their parts warehouses across the nation to supply parts to anyone, anywhere and in a reasonable amount of time, but the most important part of all of this is technical support and having the qualified and trained service techs that have the know how to solve issues if they arise.
Because they focus on support Q9powersports.com has been growing around the nation over the past six years and they have Parts supply warehouses in CA, TX, IN, GA and WI.
Celibrate six years in business with Q9powersports.com and save on all of the Quality entry level Atv's, dirt bikes, go karts and helmets all month long.
Founded in 2004, Q9Powerslports.com has grown from selling a couple of hundred of machines a year to selling thousands of machines a year and providing part and support not only to their customers but anyone in the nation who needs support on any Chinese power sports machine. You don't even have to purchase an Atv from them to have their support, they are happy to assist anyone who is looking for help.
# # #