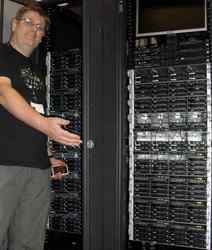 (PRWeb UK) June 28, 2010
Birmingham Science Park Aston based technology company, Majestic-12 have launched a new supercomputer cluster to be able to analyze linking patterns between websites for use by Internet Marketing analysts.
The new cluster boasts almost 1TB of RAM, and a raw Hard Drive capacity of 300TB. It is built on the new six core Intel Xeon X5670 (2.93 Ghz) Processors.
The Cluster runs bespoke software, which will enable Majestic to increase the speed of production of its Trillion-Scale Backlinks index – which Majestic believe is the largest publicly available index of its type.
Each node in the 12 node Cluster was tested with Intel Linpack benchmark to produce in excess of 130 GFLOPS each with total processing capacity in excess of 1.5 TFLOPs.
This new cluster will enable Majestic 12 to conduct a much faster, more in depth analysis of the web graph database that its build.
About Majestic 12:
Majestic 12 Ltd uses distributed crawlers to understand the world wide web and relationships between the sites. Their web based product - MajesticSEO.com allows internet marketers and analyst's access to this data through a low cost monthly subscription. The company recently won an Econsultancy award for the best technology innovation in Search Engine Optimisation (SEO)
For more information contact:
Dixon Jones, Marketing Director.
Majestic-12 Ltd (t/a Majestic-SEO)
Faraday Wharf, Holt Street
Birmingham Science Park, Aston
Birmingham, B7 4BB
United Kingdom
###