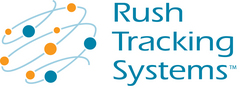 VisiblEdge delivers real time inventory and lift truck operations data which can be used by forward leaning organizations to improve the business performance of their constrained manufacturing and warehouse operations
Kansas City, KS (Vocus) June 28, 2010
Rush Tracking Systems, a leading provider of advanced tracking solutions, software and services for manufacturing and warehouse operations, partnering with Digilogics, will feature a live demonstration of its innovative VisiblEdge solution for automating lift truck operations at Exopologistica 2010, (July 7-9, Mexico City, Mx).
Rush Tracking Systems' VisiblEdge automates data capture of lift trucks and their loads. It combines data collection devices, load detection sensors, and optical positioning with market-leading VisiblEdge software to automatically capture and track the physical movements of lift truck fleets and the loads they move. Installed on new or existing lift truck fleets, VisiblEdge transforms load and lift truck movement into discrete business events, which can be tracked by VisiblEdge as a standalone application or integrated into backend applications.
VisiblEdge is ideally suited for constrained manufacturing and warehouse environments, and supports business processes such as automated shipping and receiving, returnable container tracking, work-in-progress tracking, replenishment operations, and finished goods tracking.
VisiblEdge enables unprecedented real time visibility to the status and location of goods and material handling assets. The real-time granular data support improved operational control, improved inventory accuracy, enhanced labor management, improved shipping and receiving accuracy, improved operator productivity, streamlined material movements, reduced working capital, and improved return on net assets.
"VisiblEdge delivers real time inventory and lift truck operations data which can be used by forward leaning organizations to improve the business performance of their constrained manufacturing and warehouse operations," said Chuck Thompson, vice president of sales for Rush Tracking Systems. Luca Pastorello, Managing Director at Digilogics explains, "We are excited about the partnership and eager to show the attendees how VisiblEdge can error proof and improve their supply chain operations."
About Rush Tracking Systems
Rush Tracking Systems provides solutions, software, and services that leverage world-class tracking systems integration and business process analysis to maximize the business value of tracking technologies for constrained warehouse operations. Specializing in constrained warehouse operations, Rush Tracking has proven expertise in industrial manufacturing, aerospace and defense, automotive, pharmaceutical, consumer packaged goods, retail, and petrochemical industries. For more information, call (913) 227-0922 or visit http://www.rushtrackingsystems.com.
About Digilogics SA. De CV.
Digilogics S.A. de C.V., a Mexico-based labelstock converter, creates radio frequency identification (RFID) solutions for process-intensive industries including retail apparel, government services and supply chain management, among others. The company's mission is to become the leading RFID label provider in Mexico by developing customized solutions for industry customers that deliver exceptional quality, performance and ROI. Digilogics' partners include RFID manufacturers and solution integrators 5Stat, Convergence Systems Limited, Impinj, UPM Raflatac, Rush Trucking Inc. and Zebra Technology Corporation. For more information, please visit http://www.digilogics.com.mx.
###