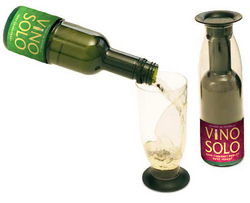 Philadelphia, PA (PRWEB) June 28, 2010
KDM Global Partners, LLC ("KDM"), a Philadelphia-based wine importer and producer of private label wine brands, has announced its affiliation with CC1 Distributors/Coca-Cola Bottlers, Bayamon, Puerto Rico for the distribution of two KDM wine brands in Puerto Rico: Vino Solo and Black Elk.
VINO SOLO:
The unique Vino Solo product is a 187ml PET plastic wine bottle that comes with an attached drinking flute, which is also the cap closure.
Exclusive to KDM Global Partners, the Vino Solo package has attracted significant interest nationwide from convention centers, arenas, performing arts centers, hotel/casinos, sports teams, food service organizations, retail chains and the like – not only because of the compelling packaging and consumer interest in them - but also because of the efficiencies and ease of beverage service: improved cash control, quickness of service and inventory control.
Currently produced in Australia and imported by KDM, Vino Solo will soon add a US-based production and bottling capability, providing additional flexibility for private label branding and various varietal/price point differentiation.
More information is available at VinoSolo(at)KDMGlobalPartners(dot)com.
BLACK ELK:
The Black Elk 'Wines of the World' brand is a multi-country offering, featuring a 'best-of-the-best' lineup of premium 100% varietal wines – each from a different world viticulture region. Black Elk's success in the Puerto Rico marketplace began as an ongoing featured wine pour at the Puerto Rico Convention Center, the largest facility of its kind in the Caribbean region. Now, Black Elk is also available at retail stores, supermarkets and other on-premise locations throughout Puerto Rico.
More information is available at http://www.BlackElkWine.com.
###