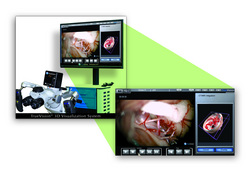 We believe TrueVision gives us a clear advantage in visualization, safety, and efficiency for the surgical team and pediatric neurosurgical patient.
Santa Barbara, CA (PRWEB) June 28, 2010
TrueVision 3D Surgical announced today that Cardon Children's Medical Center is the first institution in the state of Arizona to adopt TrueVision® 3D Surgical Visualization, where multiple 3D flat panel displays and the TrueVision® system create a fully dedicated 3D Pediatric Neurosurgical suite -- and they are the second pediatric institution in the world to adopt the state-of-the-art visualization system. TrueVision® is a real-time stereoscopic, 3D, High Definition visualization system for microsurgery that attaches to surgical microscopes to display the surgical field of view in real-time in 3D on flat panel displays in the OR.
The Division of Pediatric Neurosurgery at Banner Health's Cardon Children's Medical Center has equipped their primary operating suite with TrueVision® 3D surgical visualization for microsurgery using multiple TrueVision three dimensional 1080p displays and the TrueVision® image processing system. The system is also used to record 3D surgical video for educational purposes and for presenting on-demand 3D surgical video content.
TrueVision® enables surgeons to perform surgery in 3D via a heads-up 1080p display instead of looking through the microscope. Surgeons, residents and the operating room staff can view on flat panel displays what traditionally only one or two surgeons could observe through a microscope. TrueVision® is ideal for surgery, training, and education. It is used for live procedure broadcasting, proctoring, and surgical education in 3D.
"We are one of the first programs in the world to adopt TrueVision 3D as a standard of care for our program," says Scott Elton, MD, Director of Pediatric Neurosurgery at Cardon Children's Medical Center. "We believe it gives us a clear advantage in visualization, safety, and efficiency for the surgical team and pediatric neurosurgical patient, offers unparalleled advantages in both intra-operative and remote consultations, benefits medical education through three dimensional learning and understanding, and initiates a platform on which to build significant future pediatric neurosurgical capabilities."
About Cardon Children's Medical Center
Cardon Children's Medical Center provides comprehensive pediatric care for children of all ages, from newborn to teen. Services include emergency care, intensive care, neonatal care, general pediatrics, surgical and rehabilitation services, oncology and outpatient services and education. Cardon Children's Medical Center is owned and operated by Phoenix-based Banner Health, one of the largest, non-profit health systems in the country. To learn more about Banner Health go to BannerHealth.com
About TrueVision 3D Surgical
TrueVision 3D Surgical is the leader in digital 3D visualization for microsurgery. TrueVision has developed and patented an intelligent, real-time, 3D surgical visualization platform. The company is developing a suite of 3D guidance applications for microsurgery that is expected to generate greater patient satisfaction. (http://www.truevisionsys.com)
CONTACT:
Robert Reali
TrueVision 3D Surgical
805-963-9700
###