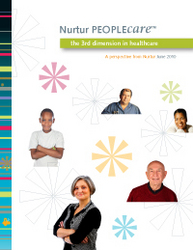 With Nurtur PeopleCare, healthcare isn't just about health. It's also about life
San Diego, CA (Vocus) June 29, 2010
Employers around the country are struggling to make sense of the seismic shift reshaping the healthcare system in America. For human resource managers, everything seems to be converging at once – wellness, lifestyle behaviors, disease management, healthcare consumerism, productivity, healthcare reform, and changing cultural influences and attitudes. A new perspective from Nurtur announced today unravels the common threads linking these issues together and offers fresh insight on how to best address the challenges.
Nurtur PeopleCare: The 3rd Dimension in Healthcare presents an overview of the traditional and preventive dimensions of the current healthcare system and points to the need for a new facet that considers healthcare consumerism. It then goes on to examine three factors at the root of the nation's healthcare crisis and explores why the high expectations placed on disease management to control costs were unrealistic. Finally, it offers Nurtur PeopleCare as a consumer-focused approach that allows a 360° perspective of both life and health issues to address lifestyle behaviors, improve health and reduce healthcare costs.
Nurtur unveiled its new perspective and introduced Nurtur PeopleCare this week at the SHRM 2010 Annual Conference and Exposition held in San Diego (booth #3253).
"With Nurtur PeopleCare, healthcare isn't just about health. It's also about life," said Steve Meholic, Chief Operating Officer for Nurtur. "Our view is a holistic perspective that brings the individual into greater focus, which allows us to provide more effective and meaningful interventions. People need to be supported with both clinical education and behavioral motivation to make and sustain changes to improve their health."
Nurtur is the first health and wellness company to make the strategic investment to acquire a work-life and EAP provider and integrate the service capabilities into its core programs. Nurtur PeopleCare brings together the company's unique multi-disciplinary health coaching model with real life problem resolution to enable individuals to make long-term health a daily priority.
Nurtur will continue to refine and enhance its Nurtur PeopleCare capabilities through its exclusive partnership with the Duke Center for Living. "We are committed to our vision to transform our industry by focusing on the relationship between life and health, which is the only way to address the behaviors and lifestyles that are at the root cause of much of healthcare costs today," said Bart Sheeler, President, ActivHealth, the wellness company recently acquired by Nurtur.
For more information or to request a copy of the new 3D perspective from Nurtur, email marketing (at) nurturhealth (dot) com.
About Nurtur: Nurtur is the work-life, health and wellness company dedicated to helping people transform their lives with support, encouragement and motivation. The company offers life and health coaching to help people at all life stages address the life issues that get in the way of health as well as the health issues that complicate living. Nurtur life and health management programs include wellness, disease management (including Back Pain, Depression, Diabetes, Heart Disease and Respiratory Disease), episodic/catastrophic care management, work-life resource and referral, employee assistance and professional training. The company provides services to multi-market segments including employers, plan sponsors, Third-Party Administrators, commercial health plans and government agencies. For more information, visit http://www.nurturhealth.com.
###