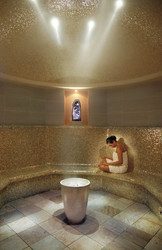 We created Nature's Radiant Facials as part of our Spa's effort to become more and more organically pure and eco-logically focused, while still delivering the visible, high-performance results our guests expect
New York, NY (PRWEB) June 28, 2010
The Spa at Mandarin Oriental, New York is delighted to enhance its green and sustainable offerings with the launch of its new, high-performance and eco-centric Nature's Radiant Facials. This exclusive 50 and 80-minute holistic treatment for the face, neck and décolleté was developed with the ecologically conscious and 100% organic sustainable skincare company Amala, based in Germany where standards for natural and organic are among the most stringent in the world. The line of Nature's Radiant Facials takes eco-conscious skincare to the next level by treating skin's specific needs with some of the world's most potent healing botanicals to ensure noticeable results.
Each customized Nature's Radiant Facial begins with a thorough skin analysis to determine whether toning, deep pore cleansing, softening of fine lines and/or restoring hydration is needed. From there, Amala's organic seed oils and whole plant products gently cleanse and exfoliate the skin to balance and renew elasticity while stimulating cell renewal and providing antioxidant protection. The facials include two masks – a Rhassoul clay mask to draw out impurities and soften the skin, followed by a customized mask that stimulates collagen and hydrates the skin. A relaxing scalp, foot or hand massage is given while the masks work to replenish the skin. 50-minute facials include one of the massages and 80-minute facials include two of the three massage options. After the masks are completed, the therapist administers a Manual Lymphatic Drainage Facial Massage which acts as a natural face-lift, reduces puffiness and firms the skin for immediate, visible results and a youthful, healthy and radiant appearance.
"We created Nature's Radiant Facials as part of our Spa's effort to become more and more organically pure and eco-logically focused, while still delivering the visible, high-performance results our guests expect," states Spa Director, Denise Vitiello. "Each custom-blended facial is based on a different potent botanical - Blue Lotus to purify, Cocoa Bean to rejuvenate, and Jasmine to hydrate so we can provide a facial that's very specific to each guests needs. We're delighted to be working with Amala's customized, organic skin care products to create facial and body treatments that produce high impact results without the use of chemicals," said Denise Vitiello, Spa Director.
Amala is known for its "skincare with a pure conscience" philosophy. Their products contain the highest possible concentration of organic and wildcrafted plant ingredients grown in their native regions to provide unsurpassed potent performance and wellness benefits. These ingredients are sourced from global farm partners and grown according to certified organic agriculture practices which positively impact the earth. "When it comes to skincare, you shouldn't have to sacrifice results for responsibility," said Amala's founder, Ute Leube. The 50-minute Nature's Radiant Facials treatment is priced at USD 215 Mondays – Wednesdays and USD 225 Thursdays – Sundays. The 80-minute Nature's Radiant Facials treatment is priced at USD 305 Mondays - Wednesdays and USD 320 Thursdays - Sundays. For reservations contact The Spa at +1 212 805 8880. For more information about The Spa, please go to our website at http://www.mandarinoriental.com/newyork.
About Amala Skincare: Amala means "most pure" in Sanskrit, "revered mother" in Tibetan, and "love her" in Spanish. Formulated in Germany and built on a heritage of love and respect for nature of the highest order, Amala strives to deliver "Radiant Skin, Responsible Skincare" with holistic formulas that are ethically sourced, powerfully pure and proven effective – firmly upholding the belief that when it comes to the skin, there's no reason to sacrifice results for environmental responsibility. Amala is a wholly-owned subsidiary of Primavera Life GmbH, Germany's largest manufacturer of 100% pure, organic essential oils, sold in more than 12,000 pharmacies, grocers, health food stores and through cosmeticians across Germany.
About Mandarin Oriental, New York: A stunning fusion of modern design with stylish Oriental flair, Mandarin Oriental, New York features 248 elegant guestrooms and suites — all with breathtaking views of Manhattan and Five-Star hospitality. Luxurious amenities include Asiate, the hotel's elegant restaurant; MObar created by noted interior designer, Tony Chi; the Lobby Lounge with dramatic views of Central Park; a 14,500-square-foot, Five-Star Mandarin Oriental Spa; and a state-of-the-art fitness center with a 75-foot lap pool. In addition, there is premium meeting and event space, including a 6,000-square-foot pillar-less ballroom with three walls of windows overlooking Central Park. Located in Columbus Circle's Time Warner Center, Mandarin Oriental, New York is in an idyllic location just steps away from world-class dining, shopping and entertainment, including the Broadway Theater District, Lincoln Center, Central Park, Jazz at Lincoln Center and the Time Warner Center's collection of upscale retail shops and restaurants.
Mandarin Oriental Hotel Group is the award-winning owner and operator of some of the world's most prestigious hotels, resorts and residences. Mandarin Oriental now operates, or has under development, 41 hotels representing over 10,000 rooms in 26 countries, with 17 hotels in Asia, 13 in The Americas and 11 in Europe, Middle East and North Africa. In addition, the Group operates, or has under development, 13 Residences at Mandarin Oriental, connected to the Group's properties.
Photography of Mandarin Oriental is available to download, in high and low resolution, in the Photo Library of our Media section, at http://www.mandarinoriental.com.
# # #