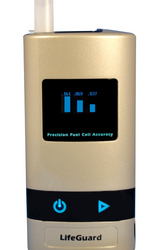 "LifeGuard gives very consistent and accurate results and could not be easier to use. From my personal experience I highly recommend it." - JR Bingham, LifeGuard customer
Denver (PRWEB) June 28, 2010
Summer is here and the "Heat Is On" in Colorado and across the nation. During the July 4th holiday weekend we can expect increased law enforcement crack downs on impaired driving. Last summer's "Heat Is On" campaign in Colorado, alone resulted in 3,531 DUI arrests. Additionally some states, like Colorado, have new DUI laws on the books which increase the chance of going to jail after a first DUI conviction.
Be safe and plan ahead this summer. Don't drink and drive. The LifeGuard personal breathalyzer from Lifeloc Technologies, Inc. helps people make informed decisions about alcohol consumption including education about how alcohol affects themselves as well as their friends and loved ones. Easy to use and discrete, the units will easily fit in a purse, shirt or suit pocket until needed.
"The LifeGuard personal breathalyzer includes a new alcohol management feature designed to promote responsible drinking," said Kelly Silverman, LifeGuard product manager. "The feature allows a single user to record and chart their last three breath tests to help judge if their breath alcohol content (BAC) is rising, falling or stable. This is important for informed decision making because your BAC reading at any single point in time doesn't tell you if your blood alcohol content is on the way up or down. The charting capability is new and unique to LifeGuard."
"For example, if you chart your test results every half-hour after consuming alcohol you can see a side by side comparison of the numerical test results and a chart of the results," explained Sliverman. "The new feature is an additional tool designed to educate and encourage personal awareness and responsibility."
LifeGuard is American made and the most accurate and reliable personal breathalyzer on the market. LifeGuard is manufactured using platinum fuel cell technology, the same technology used by Lifeloc Technologies in its professional roadside breath alcohol testers. The overall ease of use, accuracy and reliability make LifeGuard the one to trust.
LifeGuard customer, JR Bingham, shares his personal experience, "I use my LifeGuard for family and personal use especially the morning after a celebration (i.e. a wedding) to see that I and others are safe to drive. Since the stakes are high it is essential that I can rely on my breathalyzer. I have used the cheaper silicon oxide breath testers and found them unreliable and inconsistent. LifeGuard gives very consistent and accurate results and could not be easier to use. From my personal experience I highly recommend it."
According to the National Highway and Safety Administration, every 45 minutes and 32 times a day someone in the United States dies in an alcohol-impaired traffic crash. The consequences associated with DUI charges are staggering – the emotional cost of injuring someone, the potential loss of job or income, the reality of jail time and an average fee of $10,000 per offense. It's not worth the risk. Don't let your July 4th holiday or summer celebrations end in arrest or even worse – death. Take matters into your own hands with LifeGuard.
Lifeloc Technologies, Inc. does not advocate drinking and driving on any level, even one drink can cause impairment. To learn more about LifeGuard and how to purchase your own personal breathalyzer, visit lifeguardbreathtester.com today.
About Lifeloc Technologies, Inc.:
Lifeloc Technologies, Inc., is a leading global designer and manufacturer of personal and professional portable breath alcohol testers commonly known as "breathalyzers." More than 35 countries currently utilize Lifeloc's breath alcohol testing equipment for workplace, law enforcement, education and corrections testing. Lifeloc products are American made and recognized worldwide for their ease-of-use, accuracy and reliability. For more information on Lifeloc, please visit http://www.lifeloc.com, http://www.lifeguardbreathtester.com or call 1-800-722-4872.
###