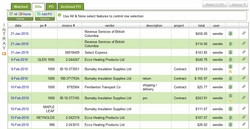 say goodbye to data entry
Vancouver, BC (PRWEB) June 28, 2010
Bean Services Inc. ("Bean") today unveiled Beanbills Version 2.5, the newest version of its web based Accounts Payable Control & Automation Solution. This major application update addresses key features requested by customers including email to "capture" to allow customers and their vendors to email invoices directly into Bean's Auto-Capture service, easily eliminating data entry.
"That's right, you can truly say goodbye to data entry!! We're thrilled to be releasing this new version. It's going to make managing and controlling the AP process even easier," said Jarrod Levitan, Bean's CEO. "Now users can easily email their invoices directly into Beanbills where they'll be electronically captured, avoiding one additional step to manually scan paper. Since everyone uses email, this will greatly enhance the experience of using the Beanbills application."
Invoice Management & Control Made Easier
Users of Beanbills will feel right at home with the new enhancements and improvements which addresses extensive user feedback and makes invoice management easier and more convenient through the following:

Improved audit trail and tightened security. Enhanced user restrictions only allow a user with the right privilege to access the appropriate details in Reports and Search views. Password and group corrections are now restricted to a "super admin" except that any user can change his/her settings when logged in.
Better looking display. The simple stuff really, like displaying workflow information where it should be displayed; Intray, Batches Folders and Approvals Trays. Such as the routing of an invoice from desk to desk for approval, users continue to work electronically with invoices but with more information at their finger tips.
Enhanced Approval rules and mechanisms. With the right permissions a new "Super Approver" is now allowed to override a job cost or account associated with an invoice that is already in the approval flow. Speeding up the approval process giving the right people final approval control. Additionally, the Approval tray functioning has been enhanced to eliminate duplicates for multiple-channel invoices.
Improved Key Stroke commands for Coding. An enhancement to allow clearing of any value entered in fields, now permitted to use Backspace/Delete keyboard buttons following by Enter to commit the removal.
Ability to manipulate Images. With new tools you can move images around within and invoice, by rotation or deletion making it much easier to visually display the transaction data the user wants to see.
Additional Workflow Automation Tool with INBOX view. Now an invoice can be matched to a PO directly from the INBOX view with the addition of a new "Match To PO" button added to the Intray menu.
Improved search and reporting functionality. New search options were applied to search invoices by exact and range amounts of the "Total" column. The introduction of a "Grand Total" line was added to data-tables in Search and Report views to calculate a cumulative amount of the "Total" column. Both Search and Reports views now provide sorting functionality when clicking a column header in a data-table.
Enhanced Integration support. Export History log-file now provides additional information, such as Batch ID and Batch #.
Beanbills Version 2.5 arrives on the heels of a successful year that saw Bean Services' profile and awareness grow in 2009. The industry is fast taking notice of Bean Services in the AP Automation & Control market and realizing the business benefits of Beanbills, resulting in additional new customers, third party reviews of Beanbills as well as the development of strategic partnerships that continue to grow through this year.
About Bean Services Inc.
Founded in 2005, Bean Services mission is to increase office productivity through user friendly and innovative e-payables software. With several high-profile clients in the construction and property management industries, this award winning company focuses on the combined strengths of talented people and leading edge technology. Bean Services is based in Vancouver, Canada.
# # #