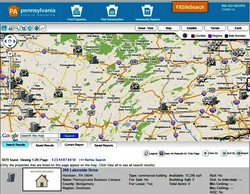 San Francisco, CA (Vocus) June 28, 2010
Pennsylvania Department of Community and Economic Development (DCED) and Team Pennsylvania Foundation have launched an industry leading commercial property and business research website, http://pasitesearch.com/ , in order to give the state of Pennsylvania a competitive advantage in the corporate site-selection process.
''This website gives Pennsylvania a distinct advantage,'' said Department of Community and Economic Development acting Secretary Austin Burke. ''With the new technology, PASiteSearch puts the commonwealth at the cutting-edge of economic development by serving as a 24-7, one-stop source of vital information.''
The http://pasitesearch.com/ website is built upon ZoomProspector Enterprise technology by industry leader GIS Planning Inc. and positions Pennsylvania DCED and Team Pennsylvania Foundation at the cutting-edge of economic development organizations websites in the US.
According to Denise Remillard, Director of Economic Development Marketing at the Pennsylvania Department of Community & Economic Development, the right partner for this project was immediately obvious. "We looked at a number of sites and buildings database providers to find the best partner for Pennsylvania, and GIS Planning simply blew the competition out of the water with its technology and expertise. We are excited about the job attraction opportunities this will create for Pennsylvania."
The innovative website is the first in the nation to directly integrate critical portions of site-selection information throughout the State of Pennsylvania website in the form of widgets, providing website users with the flexibility of accessing the data precisely where they need it.
''The success of our relationship with the Department of Community and Economic Development continues to grow with the announcement of this new project that not only transforms the PA SiteSearch website, but the face of economic development across Pennsylvania,'' said Rich Hudic, Team Pennsylvania Foundation President and CEO. ''This enhancement makes SiteSearch a unique, indispensable economic development tool and it gives Pennsylvania a major advantage over other states that are competing to retain, attract and expand business.''
Click here to see their press release on this launch.
The website's groundbreaking features include powerful demographic analysis, community search and a fully integrated social media strategy. The geographic information system (GIS) powered website offers state-of-the-art site selection mapping tools capabilities, like Drive Time, Google Street View and Google Earth.
According to Anatalio Ubalde, CEO and co-founder of GIS Planning, ''While many Economic Development Organizations are fearful of investing in their future due to current economic conditions, Pennsylvania DCED and Team Pennsylvania Foundation are truly leading the economic development industry with an aggressive investment in their community. They are making the right moves to best position themselves to gain a competitive advantage as we emerge out of this recession. We are excited to partner with industry leader like Pennsylvania DCED and Team Pennsylvania Foundation to meet the needs of Pennsylvania's communities through this state-wide implementation, and look forward to the business growth and investment this will generate for the state.''
The website is also integrated with GIS Planning's national site selection search engine ZoomProspector.com, which allows website visitors worldwide to do a national search of cities and commercial properties that match their unique criteria. When a community or any commercial property in Pennsylvania matches a business search on ZoomProspector.com, the user can immediately click through to the new GIS website to analyze the unique business advantages.
About GIS Planning, Inc.
As the inventor of online GIS implementations over 12 years ago, GIS Planning Inc. (http://www.gisplanning.com/ ) today has over 200 Economic Development Organization GIS implementations. With the majority of the 100 largest cities in the USA and covering over 11,500 cities as clients, its ZoomProspector Enterprise technology is the industry standard in economic development.
GIS Planning is also the parent company of ZoomProspector.com, the largest nationwide website for corporate real estate professionals and site location experts seeking the right location for their business. GIS Planning is an exclusive partner of the International Economic Development Council, and has been on the Inc. 5000 list of the fastest growing private companies in the US for the past three years. In addition, GIS Planning has been covered in over 100 leading news publications, including The Wall Street Journal, BusinessWeek, Forbes, Fortune Small Business and Inc magazine.
About Pennsylvania DCED
The goal of the Pennsylvania Department of Community & Economic Development is to foster opportunities for businesses and communities to succeed and thrive in a global economy, thereby enabling Pennsylvanians to achieve a superior quality of life. Led by Acting Secretary George Cornelius, the Department ensures growth and development in our businesses and communities across Pennsylvania.
About Team Pennsylvania Foundation
Team Pennsylvania Foundation is a dynamic, public/private partnership that initiates and supports innovative programs to improve Pennsylvania's competitiveness and economic prosperity. The organization is the one statewide Foundation whose partners share the goal of Pennsylvania being the national leader in economic development. Team Pennsylvania Foundation works with industry leaders to bring together public officials and private leaders to enhance the business climate and secure valuable jobs for Pennsylvanians, focus its energy and resources on educating and building a strong workforce, and develop creative solutions to the challenges facing business and government across Pennsylvania.
# # #