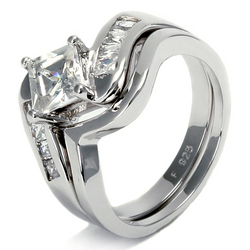 "Sterling silver is a great choice in comparison to the skyrocketing cost of gold."
Los Angeles, CA (PRWEB) June 28, 2010
Jewelry Payless, a top e-commerce provider of silver jewelry is offering a new line of sterling silver wedding ring sets starting at $19.99. With more than forty ring designs available, the collection is marked by a combination of quality and style at a low price point.
"As precious metals grow in value it is increasingly difficult to find exciting designs in quality materials at a great price," said Doug Davis of Jewelry Payless. "Sterling silver is a great choice in comparison to the skyrocketing cost of gold."
At $19.99, Jewelry Payless extends the best price in the market with competitors offering comparable quality and style at double or triple the price. Wedding ring sets are usually composed of two rings including a featured ring with a center stone or multiple large stones and a complimentary band ring that can be worn separately. The versatility of silver engagement ring sets allow for various uses ranging from wedding proposals and gold ring substitutions to personal expressions of fashion.
The collection is made with .925 solid sterling silver and coated with rhodium. Generally, rhodium is used with white gold as it offers extra protection from tarnish and a shinier surface. Often, sterling silver jewelry is finished by buffing the surface until the desired look is achieved. A coat of rhodium offers better armor and higher surface reflection.
For more information on the new Jewelry Payless silver wedding ring sets at $19.99 or to experience the full collection of sterling silver rings go to JewelryPayless.com or call 877-729-5374.
About Jewelry Payless:
JewelryPayless.com was founded under the principal that provided with quality jewelry at lower prices and superior customer service the intelligent buying public would pay attention. Jewelry Payless customers are treated as fellow consumers; this includes responsive customer care, an unprecedented 90-day warranty and fast shipping.
###