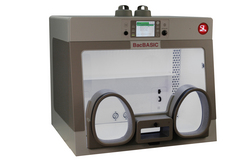 Cornelius, OR (PRWEB) June 29, 2010
Anaerobic Glove Boxes have made a name for themselves over the last fifteen years. As more researchers and clinicians realize the cost savings involved with moving from anaerobic jars or bags to anaerobic workstations, they also note the significant improvement in efficacy and efficiency in successful culture, isolation and identification processes. Such precision control of environment is essential when clinically diagnosing serious infections for rapid and accurate results.
The new SHEL LAB BacBASIC Anaerobic Chamber (http://shellab.com/store/lab-products/bacBasic) is designed with the clinical/research laboratory technician in mind by providing bare-handed access for delicate procedures, from unpacking material to inoculation, incubation, inspection and recovery, without compromising the required desired hypoxic atmosphere. While the glove-free process isn't a brand new concept for the experienced manufacturers at Sheldon (http://www.shellab.com/index.php), the new ergonomic design provides the greatest reach and comfort available. This combined with the savvy and user-friendly LCD control panel, space-saving exterior and numerous other features, offers one of the most ergonomic, user-friendly anaerobic work stations now available.
SHEL LAB BacBASIC Features:
Excellent Lighting and Visibility
Quick-Entry Glove-less Sleeve System
Rapid Auto Purge Pass Box For Introduction of Petri Plates, Specimens, and Supplies
Incubated Storage Capacity for up to 150 Petri Plates
Easy-to-change Anatox and Catalyst Packs with 6 Month Usability
Incubation Temperature Range From Ambient Temperature to 42° C
Removable Front For Placement of Large Instruments Inside Chamber
Durable Stainless Steel Construction
The BacBASIC, designed to optimize limited laboratory work spaces, has a minimal exterior footprint and can be relocated with relative ease. It can serve as an ideal auxiliary chamber option for over-flow work, extra plate storage and emergency back-up to your primary chamber. This addition to the 20 year legacy of Bactron Anaerobic chambers represents the perfect entry level chamber (http://www.shellab.com/ap-bactron.php).
About Sheldon Manufacturing, Inc.
Over the past 40 years Sheldon has worked with industry leaders to design solutions for production and research needs across the entire constant temperature/environment spectrum. Over that time our reputation has grown as an innovator of dependable and reliable equipment, designed for demanding environments. Sheldon Manufacturing, Inc. was founded in 1970 with the goal of being a worldwide leading manufacturer of constant temperature equipment and has been designing and manufacturing equipment for the biotechnology, pharmaceutical, research and production markets ever since.
http://www.shellab.com/
# # #