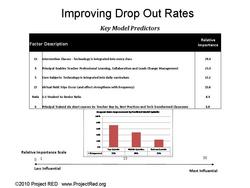 "The most exciting findings were identification of which Key Implementation Factors in use of technology improve learning outcomes," said Tom Greaves, founder of the Initiative.
Denver CO (PRWEB) June 28, 2010
At ISTE 2010, the Project RED Team (Revolutionizing Education) announced findings from their major survey of nearly 1,000 school principals and technology coordinators. "The most exciting findings were identification of which implementation factors improve learning outcomes," said Tom Greaves, CEO of the Greaves Group and founder of the initiative.
Technology-assisted classes help students stay in school - reducing drop-out rates

The most important factor that Project RED found in reducing drop-out rates is using technology frequently in intervention classes. Students in reading intervention, special education, Title I (poverty program) and English Language Learners benefit from the individualized instruction that technology can provide best.
Principal leadership is the second most important factor in reducing dropout rates. Change management requires trained and committed leaders who are able to drive the school culture in new directions. Principals who model and lead technology usage are associated with schools with reduced dropout rates.
Daily use of technology in core classes is the third most important factor. Just as students can take control of their iPod, they also want to take control of their learning. Student engagement is one of the serious issues facing schools with high-entertainment-value options available elsewhere,
"We found that technology-infused classes in core subject areas, such as science and math, and in intervention classes such as Reading, Title I, English Language Learners and special education, were a significant factor in improvement. They were Key Implementation Factors in higher high stakes test score improvements, dropout rate reduction,, and improved discipline, tied with low students per computer ratios, " said Jeanne Hayes, President of the Hayes Connection and co-author of the study.
Schools with 1:1 learning programs have better education success than do schools with fewer computing devices.
Schools with one computing device per student also performed significantly better than schools with higher ratios, such as 3 students per computer.
Schools with 1:1 programs reported a 15 point reduction in disciplinary actions and a 13 point decrease in dropout rates as compared to all other schools.
Schools with properly implemented programs – those with frequent use of collaboration and online testing for improvement - found even greater gains. Compared to all 1:1 schools, properly implemented programs report a 15 point gain in high stakes test score improvement and even larger improvements in graduation rates and college attendance plans.
"In our practice, we see how personalization and individualization of instruction work best when students have 100% access to a computing device," says Leslie Wilson, President of One-to-One Institute, a non-profit focused on professional development for technology integration and a co-author of the study. "Schools with devices can help students learn, but proper implementation drives even greater gains," observed Michael Gielniak, Ph.D., a One-to-One Institute staff member. "These findings are particularly significant, in light of the national agenda for education reform."
But 80% of schools under-utilize technologies they have already paid for.
In studying Key Implementation Factors, the Project RED team found that not one school deployed all five of the leading indicators of technology-infused education success. To communicate these important findings, Project RED will include a Best Practices download from the report at no charge on its web site. The key factors are:

Intervention classes (Reading intervention, special education, Title I, and English Language Learners): Technology is integrated into every class. Individualized learning through technology helps struggling students.
Principal enables teachers' Professional Learning, encourages collaboration and leads change management. Good principals give teachers the tools they need to teach in a new environment.
Games/Simulations and Social Media - Students utilize technology daily. Leveraging the curiosity and highly social nature of students keeps them in school.
Daily use of technology in core subject area classes Personalized learning with technology engages students.
Online Assessment: Frequent pinpointing of areas for improvement help students learn.
About the Study: The Project RED study provides unique scope, breadth, and depth. To our knowledge, this is the largest study of its kind of the current use of ed tech in schools.

997 schools, representative of the US school universe
11 diverse Education Success Measures
136 independent variables in 22 categories
Comparison of findings by students per computer ratios
Comprehensive demographic data correlated to survey results
The study will be available in August in a report to be published by MDR, a D&B company. The findings will be presented at sessions at ISTE on June 28 to educators and media.
About Project RED: Project RED is an ambitious research project aimed at addressing two major issues related to education in America. http://www.ProjectRED.org

Improving student achievement. While almost every other market segment has seen substantial improvements attributed to technology, public education has seen only isolated benefits. This study seeks to define technology models that can lead to improvements in student achievement.
Evaluating the total financial impact of technology on state budgets. To date, little work has been done, beyond assessing costs, to show the connection between educational technology and positive financial impact. It is time to look at cost savings, cost avoidance and revenue enhancements which are direct results of investments in educational technology.
With Intel as its lead sponsor and additional support from Apple, the Pearson Foundation, Qwest, and eChalk, this project has defined a model for success that can be replicated by schools across the country to assure both improvements in academic performance and financial value from future education technology investments. Supporters of the study include NSBA (National School Boards Association), AASA (American Association of School Administrators), ASBO (Association of School Business Officials International), SETDA (State Education Technology Directors Association), CoSN (Consortium for School Networking), iNACOL (International Association for Online Learning), and ISTE (International Society for Technology in Education),
About the Project RED Team: The leadership for Project RED comes from the One-to-One Institute and the technology experts who wrote the America's Digital Schools reports.

# # #