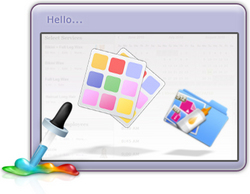 Miami, FL (PRWEB) June 29, 2010
Online appointment scheduling just got better. AppointmentSearch.com, the popular online appointment scheduling application, also dubbed 'Your 24 Hour Receptionist', has added a new feature to its system that lets subscribers completely brand it using company logo and distinctive color scheme on their appointment book, just like twitter.
With this new feature, subscribers can now choose their favorite background color or upload an image. They can also change the link color, text color and insert the company logo to create a unique branding imagery experience for their customers on the online appointment scheduling book.
Manuel Ormaza, CEO of Appointment Search said, "For a long time online appointment scheduling applications looked like clones of the same user interface with no customization or branding options. So to give more control to our subscribers over how they want their customers to perceive their companies while scheduling online appointments, we introduced this new option that lets them create their own theme.
Our customers sure like to have their company name and logo seen on the scheduling application and emails to distinguish themselves and reinforce their brand."
The twitter-like feature is already a hit among the users of the Appointment Search's large community of users. Maria, who runs a spa center says, "I spent a lot of time and money on designing my company brand to create that relaxing and uplifting theme for my customers. I also got the stationery printed with the same themes and designs. Now I can present the same visual feel of my spa center to the customers when they log onto the application to set an appointment. The branding imagery tells a new customer what to expect from my service and reminds the repeat customers how they felt when they were in the spa".
About Appointment Search
Appointment Search is an online appointment scheduling system that can be accessed by users setting appointments from anywhere and at anytime simply by using a web browser. By enabling their clients to schedule appointments online, subscribers can eliminate time-consuming phone calls and save a lot of time.
For more information, visit AppointmentSearch.com
# # #