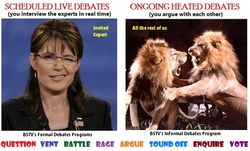 Stanion Studios' Bait and Switch TV investigates controversies and complex issues using comedy, music, blogs, voting, live debates, heated debates, expert interviews, animation, online games, & special effects.
San Francisco/Bay Area (PRWEB) June 29, 2010
Stanion Studio's, LLC | Bait and Switch TV http://www.baitandswitchTV.com
A private banking cartel and its Wall Street "shadow banking" partners manipulated the global economy, sold out America, and caused the financial crisis? Really? Attorney and author Ellen Brown has written extensively on this subject, and her findings are fascinating and compelling. Here's your chance to ask her in real time how debt-based central banking works, how she knows what she knows, and what she proposes we do about it. http://www.baitandswitchtv.com/debatesLive.html
Food corporations spend $36 billion per year to powerfully influence your food purchasing decisions, but the industry's lobbyists are delivering, in concert, the orchestrated message that individuals and children should simply make their own responsible choices about nutrition and food safety, etc without intervention or influence by government or do-gooder food police. So who should be allowed the right to influence Americans? Only those with $36 billion to spend? Pass the Doritos! You are invited to interview Michele Simon, a public health lawyer and health advocate specializing in legal strategies and food industry tactics, about corporations, lobbyists, and food police. Setup your webcam if you want to be on TV!
Register for free, live online discussions & debates at http://www.baitandswitchtv.com/debatesLive.html
About Bait and Switch TV Live Debates
"Live Debates are about you," says BSTV Executive Producer, Leesa Stanion, "If you could talk with an economist whose theories are currently under consideration by banking reformers, what would you ask? If you could question a scientist about antibiotics in the meat supply, or a policymaker about cloning or pharmaceutical approvals, what would you say? At BSTV, you can ask your questions and talk directly to experts, celebs, and policymakers in real time about any of the serious issues raised in our shows and comedy sketches. These Live Debates are about making TV interactive and getting you involved in the controversy and debate."
Registered audience members may ask questions directly in real time via Livestream Chat or their webcam.
To join the debate, register at http://www.baitandswitchtv.com/debatesLive.html

Bait and Switch TV's Live Debates (Financial Crisis Debate Series) presents Ellen Brown June 30th, 2010 3:00 PM PST / 6:00 PM EST.
How to Reset the Balance of Power: Federal Reserve Credit/Debt-based Banking versus Public and State-run Banks that will Strengthen, Not Disrupt, the U.S. Economy.
View Federal Reserve Banking System and Financial Crisis Comedy and join the debate: http://www.baitandswitchtv.com/comedy2.html
Play BSTV's "Federal Reserve Crap$hoot" online Game!
http://www.baitandswitchtv.com/games1.html
Bait and Switch TV's Live Debates (Human Health Debate Series) presents Michele Simon July 8th, 2010 5:00 PM PST / 8:00 PM EST
Appetite for Profit: How the Food Industry Undermines Our Health and How To Fight Back.
View Food Technology Comedy and then join the debate:
http://www.baitandswitchtv.com/comedy1.html
Play BSTV's "Shoot the Bull" and "Prion Puzzle" online Games!
http://www.baitandswitchtv.com/games1.html
See Live Debate Calendars for more information and ongoing weekly debate schedules.
Other Expert Guests in the Human Health and Financial Crisis Live Debate Series:
For more information on the line up of other guests in the various BAIT AND SWITCH TV DEBATE SERIES, go to: http://baitandswitchtv.com/index.php?option=com_content&view=article&id=76&Itemid=65#dates
Bait and Switch TV: Investigative Satire is a new internet TV channel and TV series that examines controversies and cultural landscapes with the comedic force of a backhoe, digging much deeper than existing news formats while striving to keep viewers laughing. BSTV's pilot episode on the unsavory practices of the meat and dairy industries is followed by their upcoming episode on the Federal Reserve's "big, bad banking system." There are over 60 episode's in the BSTV production pipeline, each of them followed up by dozens of Live Debates. The goal is to keep talking about these issues, keep learning, keep questioning.
With BSTV Live Debates, audiences can ask questions directly to experts, policymakers, and celebrities on issues that affect us all.
The US population/audience is ripe for facing controversy head-on and becoming an interactive force in the US socio-political decision-making processes. It's time to fight for our democracy and Bait and Switch TV is about encouraging and empowering people to get involved in the issues that affect all our lives while maintaining a sense of humor and balance.
"We collect and organize deep-dive evidence and positions on both sides of an issue for the audience's review," says Stanion, "never dumbing it down, and deliberately punching it up with levity, animation, and music to help make some dire or dreary news and views or complex issues easier to consume. Then we schedule Live Debates with experts on both sides of the issues we examined in the TV shows to include the audience in the conversation. This allows audiences to interview the experts and policymakers directly. They can also use our Heated Debates to interact with other viewers and points of view, or vote on the issues."
She adds, "Our US constitution and free market system have led to the greatest individual liberty, prosperity, freedom, power, honor, and security ever known to humankind. But the people in this country are considered too stupid to understand "the issues", and so many mainstream depictions of the controversies and important issues in our cultural landscape are either polarized to the point of absurdity or dumbed down to the point of irrelevance, allowing only those in power to have access to the facts to re-purpose as they wish. We can do better than this! BSTV's Live Debates are a means for allowing TV audiences to interact with documentary and news content as well as the experts and policymakers behind (or in opposition to) a given controversy."