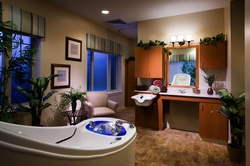 It's never too early to start thinking about limited mobility and what that means to quality of life concerns. We believe installing a safe-access bathtub can be an important step towards ensuring stay-at-home independence
Sparta, TN (PRWEB) June 29, 2010
A new, one-of-a-kind line of walk-in bathtubs offers an alternative to institutional living, by providing people with mobility problems a chance to stay safe and stay home. A recent study by the Beth Israel Deaconess Medical Center identified more than 19 million Americans who have trouble walking. Rane Bathing Systems is the only company in the U.S. to offer six different models of residential walk-in tubs that enable these individuals a range of options when purchasing an easy-access tub based on current needs or future concerns.
"Most people who are interested in walk-in bathtubs are attracted to this type of bathing solution because of a present mobility problem, but as Baby Boomers age, they are becoming concerned that mobility will be an issue in the future." comments Jim DeKraker, President of Rane. "We expanded our line of easy-access tubs to help people with limited mobility, themselves, as well as to provide options for children who want to purchase a tub to ensure the safety of an aging or disabled parent."
Rane offers walk-in tubs, side-access tubs, large tubs, and deep tubs that ensure safe access bathing without the fear of falling. "Our mission is to make it possible for more people to enjoy the physical and emotional benefits provided by something as simple and natural as a bath in their own bathroom," says DeKraker. "And we truly believe that residential walk-in bathtubs might just be the secret to aging in the convenience and privacy of your own home."
Facility Quality, At-Home Convenience
Rane's principal founder was instrumental in the late 1970s, early 1980s design, development, patenting, tooling and manufacture of one of the very first commercial bathtubs with a door in the side. Known as side access bathtubs, they were created for use in hospitals, rehabilitation centers and other types of care facilities who needed a special bathing solution for their special needs users.
Until recently, there were no walk-in residential tubs that truly addressed the needs of people with varying levels of mobility concerns or limitations.
"So we used our knowledge and experience in institutional tub design and manufacturing to create an expanded product line that can address the needs of individuals at both ends of the mobility spectrum...as well as anyone in-between," says DeKraker. "In fact, Rane is the only company making walk-in residential bathtubs using advanced technology developed for institutional bathing systems, but with walk in tub specifications that are appropriate to home use."
Rane is also the only tub company making all of its tubs in the USA and the only easy-access bath company with tubs for every mobility level.
The Perfect Product for Today
As the American population ages, it is finding itself more and more challenged with regard to mobility. The 1997-2007 National Health Interview Survey, a nationally representative study funded by the National Institute on Aging (NIA), revealed a boost in mobility-related problems among people 50 to 64 years old. "This is a disappointing trend with potentially far-reaching and long-term negative consequences," said Richard Suzman director of the Division of Behavioral and Social Research at the NIA. "If it continues, this trend could have a significant effect on the need for long-term care in the future."
The survey cites the chief causes for mobility problems as arthritis, rheumatism, obesity, and back and neck problems. Interestingly, however, those who reported these problems were more apt to say the disorders started at age 30 to 49.
"Statistics like these that underscore the fact that it's never too early to start thinking about limited mobility and what that means to quality of life concerns," says DeKraker. "We believe installing a safe-access bathtub can be an important step towards ensuring stay-at-home independence."
For additional information on the full line of Rane Bathing System products, to view their promotional video, and to use Rane's 'Easy As 1-2-3 Selector Chart' please visit the company's website at http://ranetubs.com
About Rane Bathing Systems
Rane Bathing Systems offers of full line of walk-in bathtubs for homes as well as hospitals, rehabilitation centers and other types of care facilities. It is the only company in the industry with extensive experience in the design, development, and sale of walk in/slide in bathtub units for both residential and institutional customers.
# # #