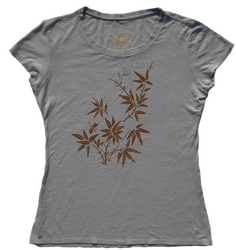 Bamboo t-shirts are much better for the environment," Jeff Fulmer of Bamboo U said. "All bamboo needs to grow is natural rainwater and a little sunlight, as opposed to cotton, which requires huge amounts of insecticides and chemical fertilizers."
Brentwood, TN (PRWEB) June 29, 2010
Eco-friendly t-shirt maker, Bamboo U is following up on its very successful panda design shirt with a more artistic 'bamboo and butterfly' graphic design, their newest women's bamboo shirt is as soft as fans of their shirts have come to expect, while not compromising on their high environmental standards.
Bamboo t-shirts are much better for the environment," Jeff Fulmer of Bamboo U said. "All bamboo needs to grow is natural rainwater and a little sunlight, as opposed to cotton, which requires huge amounts of insecticides and chemical fertilizers." It takes a third of a pound of chemicals to grow the cotton necessary for one conventional t-shirt, which can get into the soil and water systems.
"As one of the fastest growing plants on the planet, bamboo is incredibly sustainable," Fulmer said. "The result is a breathable and cool fabric that wicks away moisture and offers natural UV protection. These qualities make bamboo shirts ideal for the active lifestyles of younger people."
Bamboo U is also announcing the new domain name for their on-line store is http://www.bamboou.com. "The new domain name will make it easier for our audience to find us," Fulmer said. "Our on-line store is easy to use, making the shopping experience easy and fun."
Bamboo U has made a concentrated effort to get their message to the college age audience and it seems to be getting through. College student, Seletha Poole said, "I wore my shirt today to class and I absolutely loved it! All of my friends commented on how soft the material is. It's really comfy/stretchy and just feels good on your skin…This is now my favorite shirt!"
Stephanie Mitchell echoed those remarks. "It's most definitely the softest thing I've ever owned. After washing it, it only becomes softer! The colors don't fade at all, and its shape is still perfect. It fits very comfortably, and I would definitely purchase another."
"I think college students especially appreciate the casual comfort that bamboo offers. Students are also often more aware of our environmental concerns, as well as being open to trying new things," Fulmer said. The reactions we are getting from our customers are very encouraging. Once they put on a bamboo tee shirt, they never want to go back to cotton."
These women's bamboo shirts are actually made from 70% bamboo and 30% organic cotton. They also use eco-friendly water-based inks for all of their designs, instead of cheap chemical plastisols. Ranging from $19 to $30 a shirt, Bamboo U has worked hard to keep their prices affordable to the younger market.
The newest 'bamboo and butterfly' shirts come in two colors: sky blue and expresso brown, although Fulmer stresses that all their shirts are ultimately strive to be as green as possible. As word spreads and more people discover the benefits of bamboo, Bamboo U plans to add more 'green' shirts, hoodies, and yoga pants.
# # #