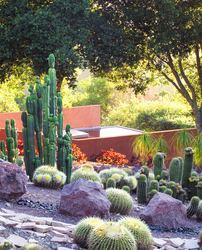 The OBUGS tours have the most interesting selections of gardens of any tours I've taken - Richard Turner, Editor of Pacific Horticulture Magazine
(PRWEB) June 29, 2010
OBUGS (Oakland Based Urban Gardens) really knows how to throw a Garden Tour. With amazing gardens, terrific food, first rate live music, and a pretty exciting raffle, this year's OBUGS Garden Tour promises to be a great time.
Garden tours are often pretty staid affairs, but that's not the OBUGS style. Think of it more like a moving party, building up to a real bash at the final stop.
OBUGS' mission is rooted in the magic combination of food and gardens - so the food has to be memorable. No catered hors d'oevres here! The food will be prepared by volunteers under the guidance of Board Member Giovanna Tanzillo, whose Italian cooking is legendary in Oakland.
OBUGS (http://www.obugs.org) is a West Oakland non-profit that teaches urban children about nutrition, health, science and the environment through experiential learning in edible outdoor classrooms.
The first garden on this tour is OBUGS most recent addition. At St. Martin de Porres School in West Oakland, students have created a thriving vegetable garden on top of an asphalt lot. At this garden, tour goers will get a taste of what OBUGS does for hundreds of kids, and pick up directions for the other gardens.
Heading through the tunnel to Lafayette, this year's tour includes 3 large gardens in a walkable 2.5 mile loop through the hills. Tour-goers have the choice of taking the shuttles, walking (actually a bit more like hiking), or biking (via BART from West Oakland) – with snacks served at each place.
The Lafayette gardens include two by Ace Architects. First is a new garden, with colors and textures keyed to a new ultra-modern corten-sided home designed by an architect for his own family. The other, a more established and very different garden which has been on a number of private museum and garden tours in the past, has just been much expanded. The third garden, created over 40 years, is a lovely set of outdoor room around a courtyard, with decorative iron and an Italianate palette.
Those who can't make the tour should still consider the raffle tickets. First prize is a 3 night stay at "the Palms" on Maui. Other prizes include a half day sailing trip for two in San Francisco Bay on a beautiful wooden yacht, bicycle trip gear worth $100 from Mojo Bicycle Café, a 2-day pass to the SF Silent Film Festival, and dinner for 2 at Le P'tit Laurent in SF.
The tour will wrap up in an open home and garden, with a Bossa Nova duo and lots to eat and drink. For the grand finale, the raffle will be held. Though ticket holders need not be present to win, they will really miss out if they're not.
People who came to last year's tour said it was the best garden tour they'd ever attended – with the most interesting gardens, the most delicious food, and the most fun entertainment. This year's tour promises to be even more memorable.
Event Date and Time:Saturday, July 24, 2010, 1:00 to 6:00 PM
Event Starting Location:St. Martin de Porres School, 675 41st St., Oakland, CA Event map and tour stops will be given out at this location.
Ticket Prices:$65 before July 22, 2010, $75 at the door,$40 special rate for bicyclists (in advance or at the door)
Ticket Sales:Tickets for the tour are available to purchase through brownpapertickets. Raffle tickets may be purchased either on the tour or by calling OBUGS at 510 465 4660.
About OBUGs
For eleven years OBUGs (Oakland Based Urban Gardens) has been building healthy communities through experiences offered to children, youth, and families in a network of school and neighborhood gardens, green spaces, and farmers' markets. OBUGS offers in- and after-school, summer camp and youth entrepreneurship programs geared towards nutritional, scientific and environmental education. OBUGS is a non-profit 501 (c)(3) organization.
###