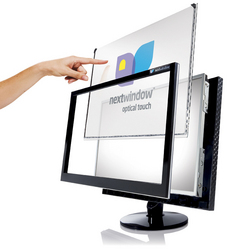 Japan is home to many leading OEMs and ODMs, including many NextWindow customers
Pleasanton, CA (Vocus) June 29, 2010
NextWindow, a subsidiary of SMART Technologies, announces the opening of a sales and customer support office in Tokyo, Japan. The new office underscores NextWindow's commitment to serving OEMs and ODMs in Japan and throughout Asia. Staff at the new Japan office will help NextWindow manage customer requirements by providing a convenient location for in-depth product demonstrations and local support for OEM and ODM product development efforts. Engineering expertise will also continue to be provided through the company's Singapore and Taiwan locations. Last year, NextWindow opened its operations headquarters in Singapore, and earlier this year it opened an office in South Korea. A third office in Taiwan was opened in 2006. NextWindow Japan is the company's fourth office in Asia. NextWindow also maintains contract manufacturing facilities in multiple Asian cities. The company is headquartered in New Zealand.
NextWindow is a leading supplier of optical touch panels and touch-screen components to electronics manufacturers. These companies use the NextWindow 1900 series touch screen, which has been certified by Microsoft® to operate with Windows 7. The 1900 series not only provides traditional touch functions such as point, click, drag and drop, but also permits multitouch functions such as pan, pinch, double-tap and scroll. NextWindow has created a range of touch screens with the benefit of responsive interactivity, a high degree of clarity, low power consumption and improved resistance to environmental conditions.
"Japan is home to many leading OEMs and ODMs, including many NextWindow customers," says Al Monro, NextWindow CEO. "The new office means we can more easily offer local support and greater visibility into NextWindow technology."
Contact details
NextWindow Japan Office
NZ Business Center, Hanai Bldg 3F
1-2-9 Shibakouen, Minatoku
Tokyo, 105-0011
JAPAN
Phone +81 (0) 3 3436 0685
Fax +81 (0) 3 3436 0685
About NextWindow
NextWindow, a subsidiary of SMART Technologies, is a leading supplier of optical touch panels and touch-screen components to electronics manufacturers. With accurate, cost-effective solutions designed for easy integration into all-in-one computers, computer displays and large-format screens, NextWindow develops the hardware necessary to bring touch-screen technology to life. Founded in 2000, NextWindow has offices in New Zealand, Taiwan, the United States, Singapore, Korea and Japan, with manufacturing facilities throughout Asia.
For more information, please contact:
David Villarina
Marketing Manager
NextWindow
Phone +1.925.272.4530
Web http://www.nextwindow.com/
© 2010 NextWindow Limited. NextWindow and the NextWindow logo are trademarks or registered trademarks of NextWindow Limited. All third-party product and company names are for identification purposes only and may be trademarks of their respective owners.
# # #