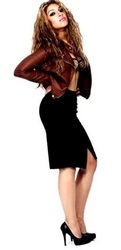 Atlanta, GA (PRWEB) June 28, 2010
Enigmatic rock and pop star Prince, who soared to the top of music charts in the 1980s with the album "Purple Rain," received the Lifetime Achievement honor at the BET Awards on Sunday.
"Words are too weak to describe just what he means to our culture," said Stephen G. Hill, president of programming, music and specials for BET.
The proof is in the purple pudding; just ask the 20-year-old singer/actress Ezrah who reigns as the new poster child borrowing from Prince's fashion closet.
"First it was Vanity, then Apollonia, I think. There's been Sheena Easton, Carmen Elektra and so many others in between. They say I'm next, but Bernadette Peters might take my spot," Ezrah jokes.
Born in Queens, New York, Ezrah also carries an air of mystery regarding her racial background, heritage, and even her last name. Now based in Atlanta, GA. to embark on her burgeoning entertainment career, she makes it known to everyone in her circle that she is unique and genuinely artistic in her own right.
Slated for distribution by Universal Music, her CD, Introduction to Ezrah, is on the brink of completion. Much more than a performer, Ezrah's creativity finds its outlet in the writing and production on this debut release, which will deliver seductive lyrics with an innovative sensual style.
"I do respect Prince's work and admire his style of fashion," says Ezrah. "You can hear the influence in my music, but you can see it more in my look. I'm inspired by creativity but will ultimately create my own direction. By no means am I a protégé." When asked if she attended the BET Awards, Ezrah stated she could not due to hosting house guests from the Gulf Coast. "Having friends who are forced to live daily with the oil spill crisis, I decided to follow the proclamation of Governor Bobby Jindal for a day of prayer during this unfortunate time."
# # #