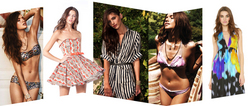 Here at Oyxgen we are giving these exciting new fashion designers a worldwide platform to grow. Brands like alice+olivia, Sea NY, Brian Reyes, LNA and Gryphon NY
(PRWEB) June 30, 2010
For the last two years Joanna Nicola has been building a massively successful business in London by uncovering and then promoting the cream of America's talented new fashion designers.
The exclusive Oxygen Boutique in London has now taken to the web to promote their exciting new ranges to a worldwide audience. In celebration of Independence Day, Oxygen is offering amazing discounts on lines from designers including: alice + olivia, Sea NY, Brian Reyes, LNA, Gryphon NY
Talking from her Boutique in London, Joanna said: "Having spent time living in America, I was lucky enough to be exposed to some of the amazing design talent that is thriving there. Here at Oyxgen we are giving these exciting new fashion designers a worldwide platform to grow from. So far demand has been fantastic, and we are getting brilliant feedback from our customers"
Oxygenboutique.com lets customers from all over the world get their hands on the latest fashion, before it gets anywhere near the highstreet"
To take advantage of the Independence Day Sale go to oxygenboutique.com.
###