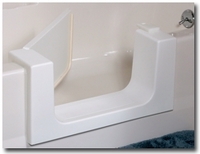 "Our goal," according to Pistor, "is to provide bathroom safety modifications that will allow seniors to remain independent and live in their own homes longer."
Wheat Ridge, CO (PRWEB) June 29, 2010
No room poses a bigger threat to safety for seniors than the bathroom. Slip and fall accidents when entering and exiting the bathtub or shower contribute to nearly 25% of hospital admissions for people age 65 and over. The most common result of these falls is a hip fracture.
To assist the physically infirm, both in day-to-day living and following an injury, Miracle Method has added a door option to its popular Easy Step™ bathtub to shower conversion. The 24" x 9" opening made in an existing bathtub allows the user to step through, not over, the side of tub. "Shower safety for seniors is a major concern and it's common for an elderly person to lose his balance when lifting a leg over a tub," states Chuck Pistor, President of Miracle Method. The door option Easy Step not only allows for safer bathtub access, but to also be filled with water for a bath. "Many of our older customers still like to take baths and for them, having a door is very attractive," says Pistor.
The Easy Step™ has proven to be popular among senior homeowners and in home senior caregivers alike. Homeowners like its simplicity and the fact that installation takes just one day. A senior homeowner can be using the tub again the same day we do the installation," adds Pistor. Senior caregivers and occupational therapists, also like the Easy Step™ because it makes helping their patients in and out of the tub easier and safer.
With an installation price range of around $1,000 for the door option and less for the standard version, Easy Step™ is an affordable and effective alternative to expensive walk-in bathtubs. As a walk-in tub installation requires tearing out the old bathtub, removing walls, and often performing extensive plumbing modifications, one of these tubs can cost from $7,000 to $16,000. By comparison, the Easy Step bathtub safety modification is a fraction of the cost and requires no messy remodeling or re-plumbing of the bathroom.
"Another advantage of the Easy Step™ is that if the removed piece is saved," says Pistor, "it can be replaced at a later date and you'll never know the conversion had been made." This is a welcome feature for family members who may be faced with eventually selling the house.
Miracle Method also installs safety grab bars, hand-held shower nozzles, curved shower rods and even slip resistant tub surfaces. "Our goal," according to Pistor, "is to provide bathroom safety modifications that will allow seniors to remain independent and live in their own homes longer."
Pistor offers advice to senior homeowners, elder caregivers and occupational therapists looking for senior bathtub safety solutions. Avoid high-pressure sales people who won't quote prices over the phone, and always have someone with you to help you make the best decision for your situation. Avoid solutions that will not only cost thousands to install, but thousands to replace.
Experts on surface refinishing, Miracle Method can also repair and restore bathtubs and tile at the same time as the Easy Step™ installation. "Having all the work done at once allows us to provide cost savings to our customers," adds Pistor.
In business for over 30 years, Miracle Method is the nation's leading surface refinisher for bathtubs, tile, vanities and kitchen countertops and offers a five-year guarantee on all products and services. To learn more about the Easy Step™ and Miracle Method, visit http://www.miraclemethod.com or call (888) 271-7690.
###