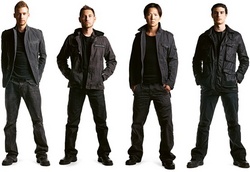 Seven Second Chase reborn by Bian Variani Fashion, A transformation of individuality, creating a wardrobe of character. Taking ordinary to the extraordinary.
Beverly Hills, CA (PRWEB) June 29, 2010
Label BV has now added Chase, lead singer of Seven Second Chase, to the growing list of talented artists to team up with Fashion Designer Bian Variani. As a designer, Bian has an eye for appeal and ability to seek out and find talented artists throughout the world. Since the beginning of Label BV, Mr. Variani has scouted out hot new talent such as Straw the Vegas Don and Déjà Bryson, imprinted himself onto each of his performers as the 'Renaissance Man', with the ability to take anyone and reborn them a celebrity
SevenSecondChase is a rock group formed in 2008 from Vancouver, Canada, and has developed many hit songs including 'Here in the End' and 'The After Life' from the astonishing album Waiting for the Future to Change. The music is being played continuously on the radio in the U.S. and Canada. The album is currently available on digital download through iTunes, http://www.myeventhub.com/sevensecondchase and http://www.bianvariani.com. Chase has been singing for over a decade and has countless performances across Canada and the United States. The purpose behind the name Seven Second Chase is the ability to apprehend a person's attention within 7 seconds with their high octane light shows and intense energy driven performances. Known for his high energy and adrenaline rush concerts, his shows are a "spectacle to watch" and draws parallels to Bian Variani as the attention seekers they are.
The deal took place with Chase by his poolside runway at Bian Variani's mansion residing in 90212 zip code in Beverly Hills. Back in Shaughnessy British Columbia, as part of the Lower Mainland of Vancouver, Bian Variani housed a mansion and was no stranger to the Entertainment Community. Fashion Designer Bian Variani has been known to host some of the most entertaining VIP Exclusive parties on the 4th of July. He takes the extreme and dare to be different attitude to the next level at all of his events. This is nothing less to expect when you consider his dramatic entrances as the only designer who has ever skydived into a show and the only one to have ridden a motorcycle onto his catwalk on top of the live performances from various known Hip-Hop Dancers and Singers. Not only did MTV host his live fashion show but previously attended his jet setting parties and documented an evening full of ice statues, live performances, spectacles and celebrity attendees.
With his holiday home in Calgary, Bian Variani considers Vancouver the "place-to-be when you want fun and entertainment combined." Vancouver is well known to the world as an urban center surrounded by mountains, forests, lakes, rivers and the ocean after the success of the 2010 Winter Olympics. At the top of the list for many years running with a score of 98 out of 100, Vancouver was voted as most livable city in the world according to the Economist Intelligence Unit and near the top for highest quality of living according Mercer's Quality of Living Survey. Bian states that Vancouver is known as the 'Hollywood' of Canada with many well-known productions being filmed every year at this location, films such as: 2012, X-Men, The A-Team, Alien vs. Predator Requiem, Blade, Final Destination, Hot Tub Time Machine, I-Robot, John Tucker Must Die, Juno, Night at the Museum, Scary Movie, and The Twilight Saga: Eclipse including New Moon and Breaking Dawn.
###