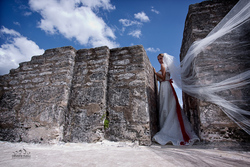 We think that the heartland of the Maya is the perfect place to celebrate the beginning of a new life together, or even to refresh old vows, and we're very excited about this new vacation package
Cayo District, Belize (Vocus) June 29, 2010
The Lodge at Chaa Creek has announced an exciting new Maya Wedding Vacation package that offers couples a unique wedding ceremony in a choice of stunning locations that include ancient Maya ceremonial sites and private jungle settings.
Describing the unique wedding experience as an exquisite blend of Maya culture, natural beauty and man-made comforts, Chaa Creek owner and GM Lucy Fleming said, "We wanted to offer something truly unique, and create a high quality, very memorable experience. Couples can now celebrate their wedding in settings largely unchanged since ancient times, and then return to comfortable, full service luxury. It really is an amazing way to be married."
The new Maya Wedding Vacation Packages offer the choice of several stunning locations:
Xunanthunich is the beautifully preserved site of an ancient city that was inhabited for a span of some 1,500 years. Accessed by hand cranked ferry across the meandering Mopan river, the site features the ruins of El Castillo, an impressive stepped pyramid affording stunning views of the river valley, Maya Mountains and rolling landscape of nearby Guatemala.
Cahal Pech is a beautifully laid out site containing a palace home for an elite Maya family and featuring courtyards, buildings with vaulted passageways and sacred ball courts. Having flourished during the Maya Classic period, its history of habitation goes back to 900 AD, making it one of Belize's oldest Maya sites.
Tunchilen is an unexcavated site set inside Chaa Creek's 350 acre nature reserve. With a remote feel yet easily accessed from the main grounds of the rainforest resort, this picturesque site is always alive with the calls of exotic birds.
Whichever site you choose, a professional photographer will ensure all the magic is captured and expertly reproduced on a DVD you'll cherish forever.
The Chaa Creek Maya Wedding Vacation Package includes the attention of a personal wedding coordinator who will arrange a civil or religious ceremony, wedding cake, bride's bouquet and groom's boutonniere, champagne for the wedding toast and the photographer. A couple's massage at the exquisite hill top spa is also included in this affordable wedding vacation package.
With more attention focused on the Maya as 2012 approaches, The Lodge at Chaa Creek believes it is important to present this year from the perspective of most Maya, to whom this is the end of an old cycle and the fresh beginning of a new era – a time for celebration.
"We think that the heartland of the Maya is the perfect place to celebrate the beginning of a new life together, or even to refresh old vows, and we're very excited about this new vacation package," Ms Fleming said.
For more information about The Lodge at Chaa Creek, toll free USA 877-709-8708, UK 0-207-096-0329, Belize 501-824-2037 reservations(at)chaacreek(dot)com or visit the web site at http://www.chaacreek.com.
# # #