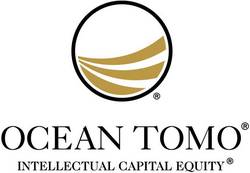 Texas has been a growing market for us; having a local team in Houston demonstrates to our clients that we are committed to servicing their needs
Chicago, IL (Vocus) June 29, 2010
Ocean Tomo, LLC, the nation's premiere Intellectual Capital Merchant Banc™ firm announced today the opening of a full service office in Houston, Texas. Led by Managing Director Shirley Webster, Ocean Tomo's Houston office provides financial products and services related to Intellectual Property, including expert testimony, valuation, research, ratings, investments, risk management, and transactions. Complementing offices in Chicago, California, Connecticut and Massachusetts, the addition of a Texas presence completes a national footprint for the firm.
"Texas has been a growing market for us; having a local team in Houston demonstrates to our clients that we are committed to servicing their needs," reports Chairman and CEO James E. Malackowski.
Ms. Webster brings substantial additional experience to the firm in the analysis of economic damages and expert testimony on a wide range of matters, including intellectual property matters such as patent infringement, trade secret misappropriation, trademark infringement, gray market goods litigation, and copyright litigation, as well as other commercial litigation matters such as breach of contract, breach of fiduciary duty, and employment disputes.
Ocean Tomo also seeks to build on Ms. Webster's experience in Intellectual Property matters before the U.S. International Trade Commission with regard to domestic industry and exclusion orders.
"I am thrilled to be joining a firm that is recognized as an industry leader in the products and services offered, as well as the diversity of their leadership," reports Ms. Webster.
Ms. Webster joins an industry-leading team of female executives addressing financial aspects of Intellectual Property. San Francisco Managing Director Cate Elsten is nationally recognized for her insight into questions of Intellectual Property valuation, especially the valuation of brand assets.
The firm also announced today the promotion of Sheryl Mikols to Managing Director in the Chicago office, complementing the work of veteran Elizabeth Bloomer, a practicing Managing Director now leading the firm's recruiting efforts on a national basis.
"Ocean Tomo provides a challenging work environment that also recognizes the demand women executives have on their personal time," explains Ms. Mikols. "The firm's family values are consistent with my own. Ocean Tomo has presented a great opportunity to fulfill my professional interests while maintaining the flexibility of a work schedule that allows me to focus on my family."
About Ocean Tomo, LLC
Established in 2003, Ocean Tomo, LLC, is the leading Intellectual Capital Merchant Banc™ firm. The company provides financial products and services related to Intellectual Property, including expert testimony, valuation, research, ratings, investments, risk management and transactions.
Headquartered in Chicago, Ocean Tomo has offices in Boston, Greenwich, Orange County, Paris, and San Francisco. Subsidiaries of Ocean Tomo include: Ocean Tomo Risk Management, LLC; Ocean Tomo Asset Management, LLC; OTI Data Networks, LLC; Patent Marking, LLC; and Ocean Tomo Capital, LLC – publisher of the Ocean Tomo 300® Patent Index family. Ocean Tomo is the founder and majority owner of the Intellectual Property Exchange International (IPXI), Inc. as well as the exclusive licensee and distributor of PatentRatings® system.
# # #