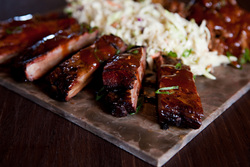 We are honored to be #1 in the Bay Area.
Napa, CA (PRWEB) June 30, 2010
Bounty Hunter Wine Bar & Smokin' BBQ was announced as winner of the "2010 Best of the BayList" by readers of SF Gate, the online edition of The San Francisco Chronicle. Over 71,000 people logged in to the Chronicle's official BayList website to submit their votes for the Chronicle's annual contest. Voting began March 28, 2010 and ended May 29, 2010. Twenty-eight Bay Area wine bars competed for the title. "On behalf of the entire Bounty Hunter Wine Bar staff, we are honored to be #1 in the Bay Area. We take tremendous pride in what we do and are grateful for the support and kind words of our loyal customers," says William Wright, General Manager.
The Bounty Hunter Wine Bar & Smokin' BBQ is located at First and Main in the heart of downtown Napa and is housed in an historic 1880s building. The wine shop, wine bar and restaurant feature an extensive wine list, offering over 400 wines on the shelf to ship, sip onsite, or take home. With more than 40 wines by the glass, a variety of tasting flights, artisan beers on tap, and a full lunch and dinner menu, the Bounty Hunter Wine Bar and Smokin' BBQ is open Sunday through Thursday, 11a.m. to 10p.m., and Friday and Saturday, 11a.m. to midnight. 975 First St., Napa, CA 94559, (707) 226-3976.
Background:
Bounty Hunter Rare Wine & Provisions is a nationally-recognized purveyor of rare wines and luxury lifestyle goods. Based in Napa, California, Bounty Hunter publishes two catalogs each year focusing on sought-after releases from wineries around the world. For over a decade Mark Steven Pope, AKA "The Bounty Hunter" has made it his business to track down the hottest rare wine and luxury lifestyle indulgences. Now boasting a successful business portfolio that includes a national consumer-direct rare wine catalog and a beautiful wine shop, wine bar and Smokin' BBQ in downtown Napa, the Bounty Hunter also produces their own high-end wine brands and offers seven different monthly wine clubs and two quarterly wine clubs. These components together make up what is truly the insiders' track to Wine Country for affluent and discerning consumers. 800.943.9463.
# # #