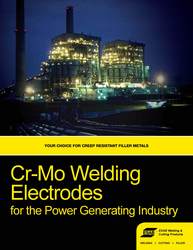 Florence, SC (Vocus) June 29, 2010
ESAB Welding & Cutting Products has released a new brochure highlighting products for the power generation industry. Creep-resistant steels, widely used in the construction of hydrocarbon power generation facilities, especially in heat exchangers, header systems and associated piping, are manufactured to provide improved strength at elevated temperatures through the addition of chromium, molybdenum and similar alloys. Common grades of creep-resistant steels include P11, P22, P5 and P91. Welding these steels require filler metals that will perform at the same level as the steel itself, while optimizing creep-resistant properties. The mechanical properties of the filler metals must adequately produce the toughness needed during the start-up phase of the plant equipment.
ESAB offers a selection of creep-resistant filler metals that meet industry specifications for hydrogen, X-Factor and chemical analysis. These filler metals are marketed under the Atom Arc, Arcaloy and Dual Shield brand names. All are engineered to provide fabricators with the highest level of reliability and performance possible. This reliability is assured through rigorous testing and documented as part of ESAB's QSC program.
With more than 100 years of experience, ESAB Welding & Cutting Products is one of the world's largest and most knowledgeable manufacturers of welding and cutting equipment and welding filler metals. To ensure customer satisfaction, many ESAB products carry a 100% Satisfaction Guarantee. Recognized as the technological leader in the industry, ESAB is committed to providing customized solutions for its customers. For more information on these products, visit http://www.esabna.com or call 1-800-ESAB-123.
###