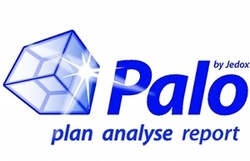 According to Jedox CEO, Kristian Raue, I am very pleased to welcome Abraneo Technologies as the newest addition to the Certified Palo Partner network.
Philadelphia, PA (PRWEB) June 30, 2010
Abraneo Technologies (http://www.abraneo.com) is pleased to announce its partnership with Jedox, developer of Palo, the leading commercial open source-based OLAP solution for budgeting, planning, reporting, operational and financial analysis to operate in the cloud (i.e. software-as-a-service/SaaS).
"We are extremely excited about the opportunity to work with Jedox and further Palo's success in the U.S. The Abraneo team has been using, implementing, and selling OLAP technologies for over twenty years' now and Palo is simply the best, most cost-effective, easy-to-use performance management software available today," said Donna Meilinger, President of Abraneo Technologies. Dan Worth, Chief Technology Officer, continues "At Abraneo, our mission is to deliver value to the customer -- from an end-user perspective, an IT perspective and a shareholder perspective. Whether you need a departmental solution or full enterprise deployment, there's just no need to overspend in the performance management arena."
According to Jedox CEO, Kristian Raue, "I am very pleased to welcome Abraneo Technologies as the newest addition to the Certified Palo Partner network. I am excited by the prospects of our two companies working together. The wealth of experience Donna and her team bring to the table in the area of corporate budgeting, forecasting, financial planning and analysis, combined with their understanding of OLAP technologies, and the marketplace, makes them an ideal partner for us. We look forward to developing the US market together."
Whether operating in a SaaS model or within a customer's site, end-user friendly Palo offers complete Excel integration as well as a highly developed, zero footprint web-based spreadsheet application to facilitate enterprise deployment. As a complete in-memory based corporate performance management solution, Palo enables a single version of truth for data-driven enterprises, business divisions and the commercial open source community. Commercial open source is fast becoming part of the worldwide IT environment where there is constant pressure to solve business problems in a cost effective manner. When coupled with the ease-of-use Excel and Web front ends, the business users' needs are met as well.
Abraneo Technologies has extensive experience in budgeting, planning, systems implementation, technology, and sales within the pharmaceutical, consumer healthcare, consumer packaged goods, retail and manufacturing industries. Based in the Philadelphia metro area, the team will concentrate on some of the largest markets in the United States, including New York, New Jersey, Boston and Washington, DC, with easy access to virtually any location on the east coast.
# # #