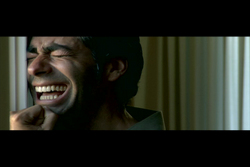 Being behind the camera offers a unique perspective that most people never experience
Torrance, CA (PRWEB) June 29, 2010
Conill had a terrific showing at the 57th Annual Cannes International Advertising Festival held June 20-26, taking home a gold Lion in the Film category for its work for the Consulate General of Argentina in Los Angeles. The agency also earned Shortlist honors in the Media category for "Best Use of Television" for its non-traditional Toyota Camry advertising.
The gold-winning 30-second commercial titled "Crying" was among the most acclaimed of the festival, receiving thunderous applause during its screening. In it, a grief-stricken man agonizes alone after receiving a phone call. An epic musical score adds to the tension. It cuts to a new take on the scene, this time with the music replaced by the director's inspirational comments to the actor:
"Remember that we haven't been Champions Since '86"
"Brazil has won three more cups than us"
"And a few days ago… we lost to Chile!"
The penultimate super reads, "A Bad Year For Our Futbol. A Good Year For Our Movies."
"Being behind the camera offers a unique perspective that most people never experience," said Conill Chief Creative Officer Pablo Buffagni. "We used that perspective and took a playful spin on the director – actor motivation process and it just clicked. The perfect and fortunate timing of having the World Cup happening gave the effort an added dimension."
Conill's award-winning work can be seen at http://www.conill.com.
About Conill
Conill is among the most highly awarded Latino agencies in the U.S. and is a four-time recipient of the prestigious American Association of Advertising Agencies' O'Toole Multicultural Award. In 2007, it was named Multicultural Agency of the Year by Advertising Age. The agency's roster of blue-chip clients includes Continental Airlines, Procter & Gamble, T-Mobile and Toyota Motor Sales. For more information, visit http://www.conill.com.
Conill is part of Publicis Groupe (Euronext Paris: FR0000130577) the world's third largest communications group, the world's second largest media counsel and buying group, and a global leader in digital and healthcare communications. With around the world activities spanning more than 104 countries on five continents, the Groupe employs as many as 44,000 professionals.
###