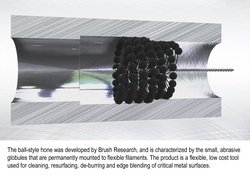 Los Angeles, CA (PRWEB) June 29, 2010
Brush Research Manufacturing, an ISO 9001:2008 certified manufacturer of flexible honing tools, has included information on its web site to help manufacturers select the appropriate type of cylinder hone for two stroke engines. The posting is in response to numerous queries about the use of Brush Research's popular Flex-Hone Tool and its use for 2 cycle engines.
The information largely centers on a comparison of the Flex-Hone and the 3 finger brake caliper hone, along with the benefits and drawbacks of each.
The improper selection of a cylinder hone can affect the final dimensions of the cylinder due to excessive material removal, or cause damage to the ports in two cycle engines (with the 3 finger brake caliper). On the other hand if the goal is to correct out of roundness or to remove a taper in a cylinder, the Flex-Hone Tool is not the best choice as it is not a material removal tool.
The blog entry also weighs in on the debate over the degree of crosshatch required for two stroke engines. A positive cross hatch angle helps the lubrication wick up the cylinder walls which is important in internal combustion engines in general and for two cycle engines specifically.
Brush Research Manufacturing has posted the article on cylinder hone selection at: http://www.flexhoneblog.com/2010/04/honing-tools-for-two-stroke-engines.html
Brush Research Manufacturing has been in the business of solving difficult finishing problems with brushing and honing tool technology since 1958. However, it was the introduction of the Flex-Hone tool in 1972 that is considered the company's crowning achievement.
The patented and proprietary Flex-Hone is a resilient, flexible, honing tool with a soft cutting action. The abrasive globules are bonded to the ends of flexible nylon filaments. Each has independent suspension that assures the flexible hone to be self-centering, self-aligning to the bore and self-compensating for wear.
The Flex-Hone Tool is available in miniature sizes as small as 4 mm. (0.156 in.) and as large as 36 in. for large bore cylinders.
Established in 1958, Brush Research Manufacturing also manufactures a full line of industrial brushes including wheel, end, cup, encapsulated, copper center, mandrel mounted. Twisted-in-wire brushes are also manufactured for thread cleaning, cross hole deburring, tube, and flue applications. Custom and miniature brush and cylinder hone solutions are available.
###