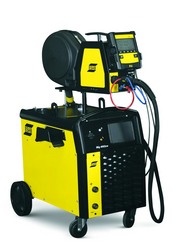 Florence, SC (Vocus) June 29, 2010
ESAB Welding & Cutting Products introduces the Aristo™ Feed 3004 with U82 Plus remote pendant. This easy-to-use arc welder, designed for MIG, TIG or Stick welding, offers ESAB's SuperPulse™ technology for exceptional heat control and provides the ability to select up to 230 synergic lines, allowing "one-knob" set up for easy welding with solid wire, cored wire, metal-cored wire and various gas mixes. It also offers memory for 255 parameter sets. The user simply selects the process, such as MIG or MIG Pulse, wire diameter, wire type and shielding gas, and the machine sets all other parameters. This allows even inexperienced welders to produce quality welds with ease.
The Aristo Feed 3004 also offers creep start, gas pre-flow and hot start functions to provide a soft and more direct start with less spatter. Crater filling, adjustable burn-back time and post-gas functions provide a smooth finish, extend the lifetime of the contact tip and eliminate cracking at the end of the weld run. Pre-programmed synergic lines ensure optimum settings with a wide choice of materials, wire dimensions and gas combinations.
Other features include pulse and synergic pulse welding capabilities, 2/4 stroke, quick connectors for short set-up times, and ESAB's TrueArcVoltage™ system that measures the correct arc voltage value independent of the length of the interconnection cable or welding torch.
A sturdy galvanized metal casing makes this welder ideal for use in tough environments. Electronically controlled feeding ensures an accurate and stable arc, while the four-roll feeder mechanism with grooves in both the feed and pressure rolls provide a stable feed with low wear on the wire. All adjustments are made on the man-machine communication panels of the feeder, which provides a good overview of the settings for easy use. The feeders feature rolls of 30 mm diameter for wires up to 0.062 in. (1.6 mm) diameter.
To maximize the functionality of the Aristo Feed 3004 with U82 Plus panel, ESAB offers three new power sources for its new line of multi-purpose arc welders. The three power sources feature well-proven chopper technology for high reliability and outstanding welding performance. Designed for MIG/MAG and Stick welding and carbon arc gouging with CO2 and mixed gas, these power sources feature digital (CANbus) communications and control system that use fewer cables to increase operational reliability. Other features include stepless inductance control and idle mode fan and pump.
Each unit is constructed with a strong metal casing to withstand harsh environments. The large wheels, sturdy lifting eyelets and an undercarriage designed for transport by forklift makes the unit easy to move. An optional re-useable dust filter handles tough and dirty environments and prevents grinding dust and metal particles from entering the chassis. The Mig 4002c provides 400A @ 60% duty cycle; the Mig 5002 c provides 500A @ 60% duty cycle, and the Mig 6502c provides 650A @ 60% duty cycle.
The Aristo Feed 3004 is part of ESAB's new line of arc welding equipment. Each model can be purchased as a ready-to-weld package or customers may "mix and match" wire feeders, control panels and power supplies to customize the equipment for their applications. If the user wants to increase the functionality of the equipment in the future, this can be easily accomplished by simply upgrading the control panel or power source. The Aristo Feed 3004 comes with a three-year warranty.
With more than 100 years of experience, ESAB Welding & Cutting Products is one of the world's largest and most knowledgeable manufacturers of welding and cutting equipment and welding filler metals. To ensure customer satisfaction, many ESAB products carry a 100% Satisfaction Guarantee. Recognized as the technological leader in the industry, ESAB is committed to providing customized solutions for its customers. For more information on these products, visit http://www.esabna.com or call 1-800-ESAB-123.
###